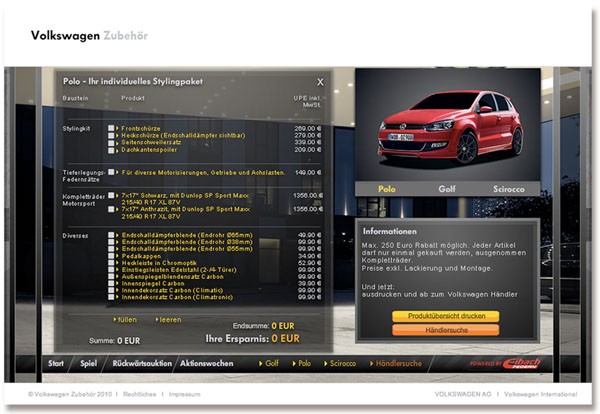 VW displayed its latest accessories for the Polo at the AMI Leipzig 2010 motor show which concluded last week. Along with the display, VW also publicized these fascinating accessories with exciting offers.
The nature of these offers are not clear so we assume these must be cash discounts. From 1 April to 30 June 2010, the 'Enter low, get out large' promotion helps German VW Polo customers purchase styling products and lowered suspension kits.
Accessories for the VW Polo which qualify for the offer include front and rear aprons, side skirts, roof spoilers, racing pedals and lowered suspension springs. Beside these parts, Motorsport-style multi-spoke 17" alloy wheels and carbon fibre-effect interior trim panels are also eligible for the offer.
Like on the BiFuel VW Polo post we discussed a couple of days ago, top priority would be given to delivering cars to customers as soon as possible. VW will also ramp up production and soon the demands will be met. After this stage is reached, VW should think of those who would love to accessorize their Polos as the initial attractiveness quotient would have been depleted. The lowered suspension might not be a suitable product for Indian roads, but the eye-catching alloy wheels and racing pedals will certainly be on our Polo, if we owned one.
Visit Volkswagen Accessories' German-language 'Stylingaktion' microsite for details of the incentive and a look of the different products on sale.
Source - Polo Driver