VW of USA has embarked on a record setting attempt with a VW Passat TDI Clean Diesel.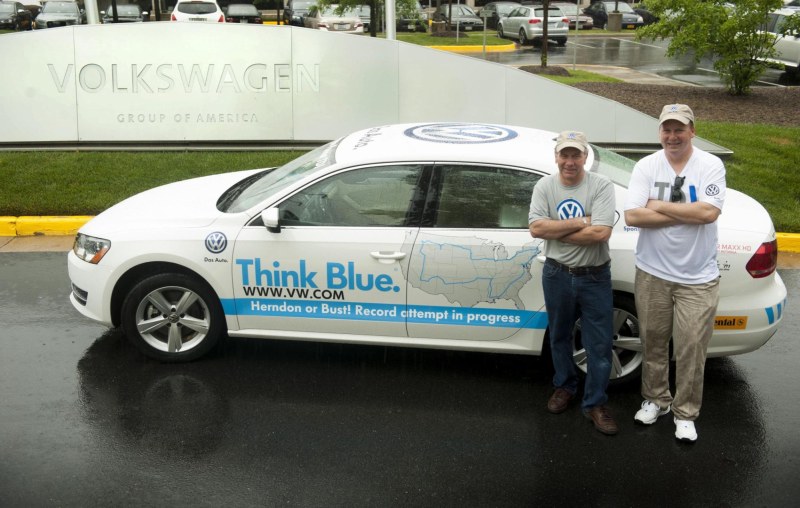 VW's TDI range of engines are known for fuel efficiency and in order to demonstrate their frugal nature, the German car maker is attempting to set a Guinness World Record for the "lowest fuel consumption-48 US states for a non-hybrid car".
The car of the choice is the Passat TDI Clean Diesel which cover will about 8,000 miles across lower 48 states of the US in a span of about two weeks. The car has already left VW USA's headquarters at Herndon, Virginia. The progress of the two driver team can be tracked through VW USA's social media handles.
David Geanacopoulos, Executive VP, Public Affairs and General Counsel of VW Group of America, said: "This is a fun and exciting way for Volkswagen to demonstrate the efficiency advantages of diesel technology. The Passat TDI is a remarkable car and we think it has a good chance to beat the existing world record."
The 2013 Passat TDI Clean Diesel is equipped with the 2.0 litre 140 bhp diesel engine that also powers the Indian version. The car has a EPA rated fuel economy of 43mpg (18.2 kpl) when mated to a 6-speed manual transmission. The Passat in the US is cost-down version of the European model (sold in India) with bigger cabin and minor changes to the exterior. The US-spec version of the Passat is manufactured in Chattanooga, Tennessee.
Will the Passat bring home the world record?
Head to Page 2 to view the press release.
VW Passat TDI Clean Diesel Press Release
[Can't view the document? Head to Scribd]