The Volkswagen e-Up! turns out to be yet another electric city car which is efficient, clean but not exactly affordable.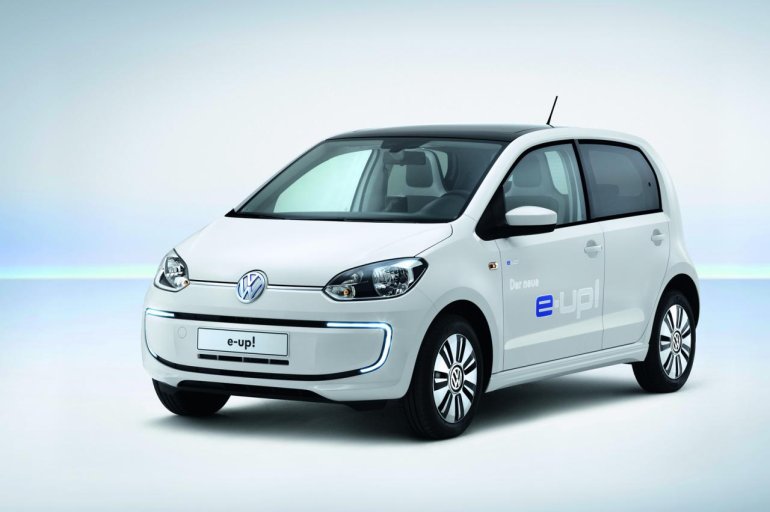 The e-Up! which is slated to be launched at the Frankfurt Motor Show in September will have an entry level price of €26,900 (around Rs. 20.82 lakhs) in Germany. The price is about 2.5 times more than that of the regular Up!
While retaining the compact exterior and reasonably spacious interior of the regular hatchback, the e-Up! sports an electric motor which puts out 82PS and 210 Nm of torque. The car can do the 0-100kph sprint in 12.4 seconds and can reach a top speed of 130kph.
The electricity to the motor is supplied by a 18.7 KWh Lithium-ion battery. The battery can be charged by plugging into a regular 230V socket or via a DC fast-charging station through the optional CSS (combined charging system). In the case of CSS, the battery can be charged to 80% in less than 30 minutes. The range on full charge would be as good as 160 km.
Visually, the e-Up! is differentiated by aerodynamically optimized front air dams, a blue backlit VW logo up front, LED lights and e-Up! badges. The specially designed 15" wheels are shod with low rolling resistance tires.
The bigger Nissan Leaf is more or less in the same alley as the e-Up! in terms of pricing. More about the leasing plans and marketing strategy will be known at Frankfurt.
Head to Page 2 to view the press release.
VW e-Up! Press Release
[Can't view the document? Head to Scribd]