The cherry of the eye for Chevy – the Beat EV, now will have to face tough competition from the German czar as VW prepares its contender – the e-Up! Envisioned on the Up! platform, the e-Up! concept is a glimpse into the future EV projects of VW.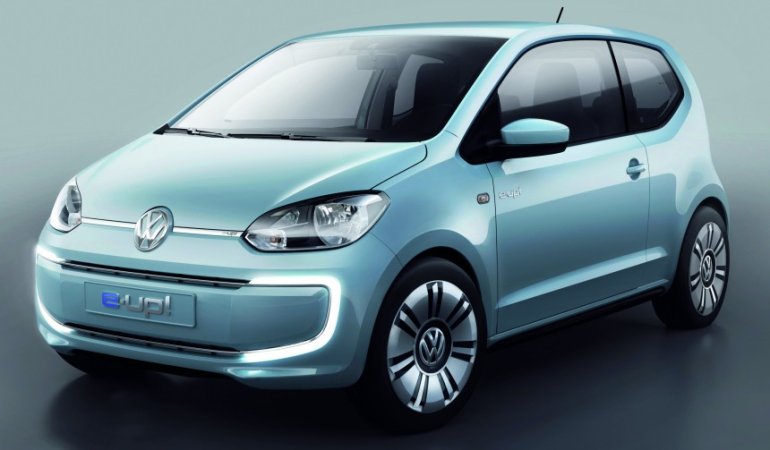 This project came into limelight at the 2009 Frankfurt Motor Show where VW showcased the first e-Up! concept. Since then a lot of changes have been made to the design and technology. Finally, at 2011 Frankfurt motorshow, VW presented a near production version of the e-Up! all set to go in production in 2013.
To make the e-Up! look futuristic and to separate it from the pack, VW has given it an arc-shaped layout of the LED daytime. Rest of all the design details remain pretty much same as the standard Up! The e-Up! is powered by an electric motor electric motor which generates peak horse power of 80 hp and has a high torque of 210Nm.
The e-Up! has a maximum speed of 135 kms/hr. The battery capacity is 18kWh which enables the e-Up! to travel a maximum distance of about 150km. Because the batteries are located in the underbody of the Up!, this frees up a lot of boot space. The e-Up! has a competent potential to become your city runabout.
However, Chevy's little competitor – Beat EV if definitely not an injured horse. First of all, Beat EV is no more a 'concept' and can go into production even tomorrow. Sure it produces less power (about 60 bhp) and has a 20 km shorter range than the e-Up! but the Beat is a proven platform and a successful product from Chevrolet.
At the end, only time will tell which is a more competent EV of the two.