Best Diesel Automatic for under 11 Lakhs?
| | |
| --- | --- |
| Specifications | Volkswagen Ameo 1.5 TDI  |
| Dimensions | |
| Overall Length (mm) | 3,995 |
| Overall Width (mm) | 1,682 |
| Overall Height (mm) | 1,483 |
| WheelBase (mm) | 2,470 |
| Fuel Tank Capacity (L) | 45 |
| | |
| Engine | |
| Displacement | 1,498 cc |
| Max Power (PS/rpm) | 110/4,000 |
| Max Torque (Nm/rpm) | 250/4850 |
| | |
| Transmission | |
| Type | 7-Speed DSG (Dual Clutch) |
| | |
| Fuel Economy (IAB figures) | |
| Urban conditions (km/L) | 13.6 |
| Highway Cruise (km/L) | 18.5 |
| | |
| Suspension | |
| Front | McPherson Strut with Coil Spring |
| Rear | Semi-independent trailing arm |
| | |
| Brakes | |
| Front | Disc |
| Rear | Drum |
| | |
| Tyre | |
| Size | 185 / 60 R15 |
| Type | Tubeless |
When IAB reviewed the VW Ameo for the first time at its national media drive last June, it was only available with a 1.2 MPI 3-cyl petrol engine mated to a 5-speed manual gearbox. Back then, VW had confirmed that a diesel variant was in the works, and it would arrive in the festive season (launched on Sep 30), but it was quite perplexing to see a product that was already late the party miss out on an important option.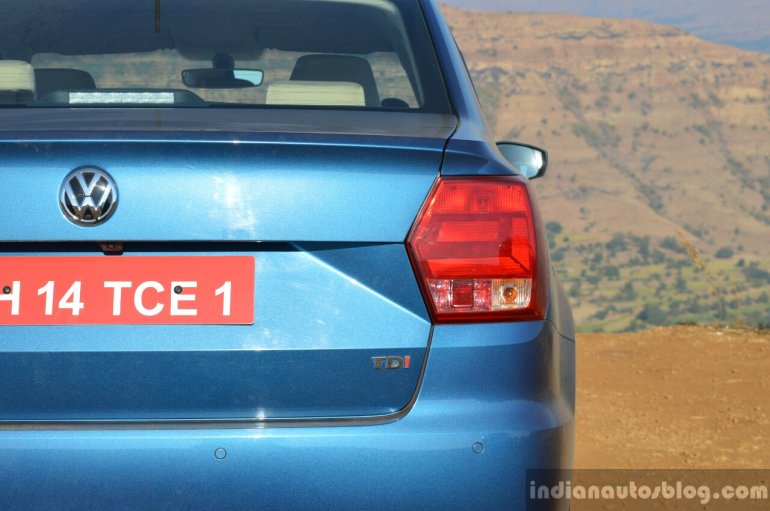 We were impressed with the overall build quality, feature list and pricing of the Ameo, but the 1.2 petrol engine's performance left something to be desired. So to find out whether the diesel variant is any better, we sourced an Ameo TDI for a weekend. Here's our review of the VW Ameo TDI DSG Highline.
It's interesting to note that the Ameo petrol is the least powerful in the segment, while its diesel counterpart is the most powerful sub-4m sedan, so VW India has both ends of the performance spectrum covered. The Ameo diesel is also the only sedan to offer a dual-clutch automatic (DSG) which, in our experience, is light years ahead of the AMT units in a couple of its diesel rivals, in performance.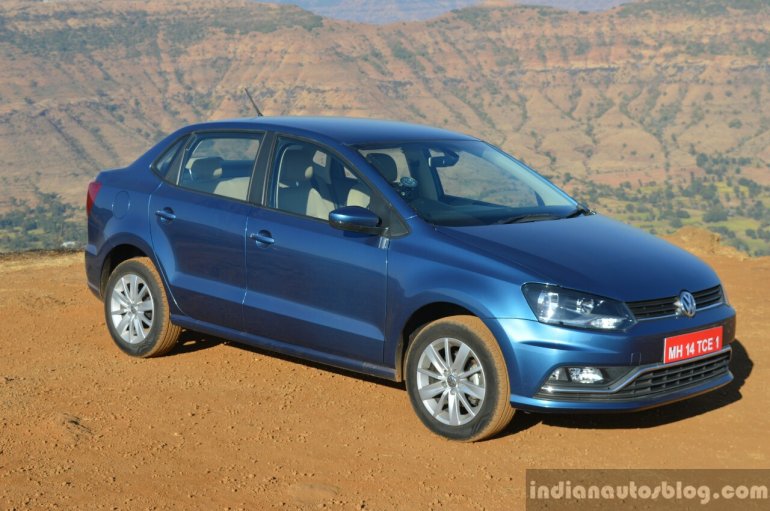 Under the hood is an updated version of the 1.5L TDI turbodiesel 4-cyl engine, which produces 110 PS at 4,000 rpm and 250 Nm of torque at 1,500-3,000 rpm. The test car we received came equipped with the 7-speed DSG option, while a 5-speed manual is also available for a slightly more engaging driving experience.
Fire the engine up, and it's pretty easy for a layman to guess that the lump under the hood is diesel-powered. Its refinement is not as bad as a few other sedans we've tested, but when cocooned in a comfortable, VW-built cabin, you'd naturally expect the diesel clatter to be less vociferous. This is one of the areas (other being price) where the 1.2 petrol trumps the 1.5 diesel.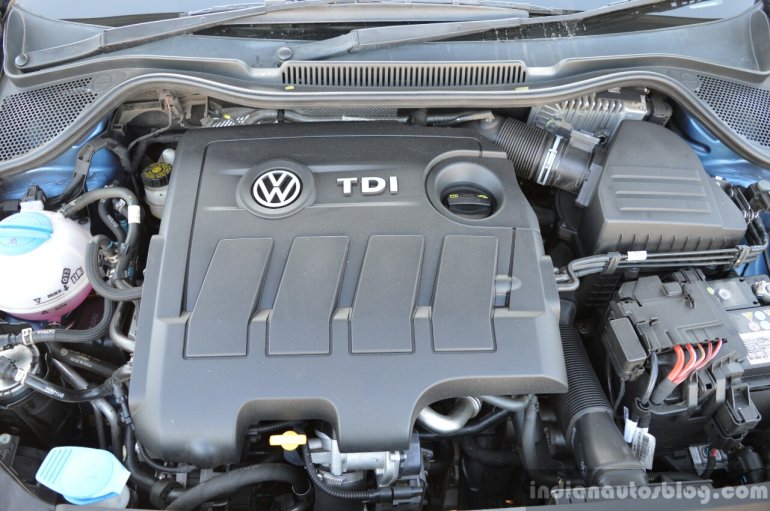 The new 1.5L TDI is exactly what the doctor ordered; spirited, punchy performance and decent fuel economy. Get past the slight turbo lag post 1,800 rpm, and torque from the revised 1.5L TDI engine catapults the Ameo faster than any sub-4m sedan we've tested. As it's paired to a DSG, gears are hurriedly served up when the power band tapers off, and before you know it, the needle will have crossed the 120 km/h mark.
If you're not a heavy-footed driver, the Ameo also likes to be driven calmly. In the standard 'D' mode, the DSG shifts through gear ratios at the lower end of the rpm range for a smooth delivery of power as well as to gulp less diesel. In urban conditions, the MID displayed 13.6 km/L as the average fuel economy, which can be increased to 18.5 km/L on an empty highway drive. By manually shifting through gears at the lowest rpm possible and cruising at 80-100 km/h, you can eke out better figures.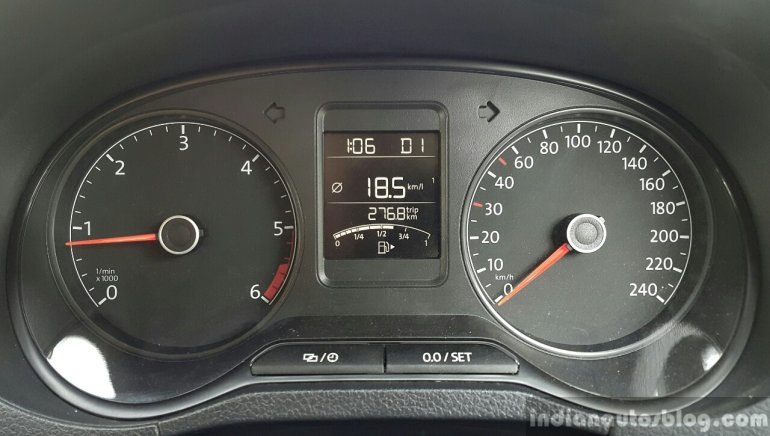 VW has slightly tuned the suspension to a firmer setting, so it does not cushion occupants from road bumps as well as the petrol model. The Ameo TDI offers exciting performance, but the confidence of pushing the throttle is broken when you go over a pothole at good speeds.
A benefit of the firmer suspension, however, is handling around corners as well as high-speed stability. It has that typical European rock hard stability at speeds over 120 km/h and doesn't voice a complaint when you throw a corner at it. These are characteristics you expect from a VW Polo GT hatchback; not a car marketed as a family sedan.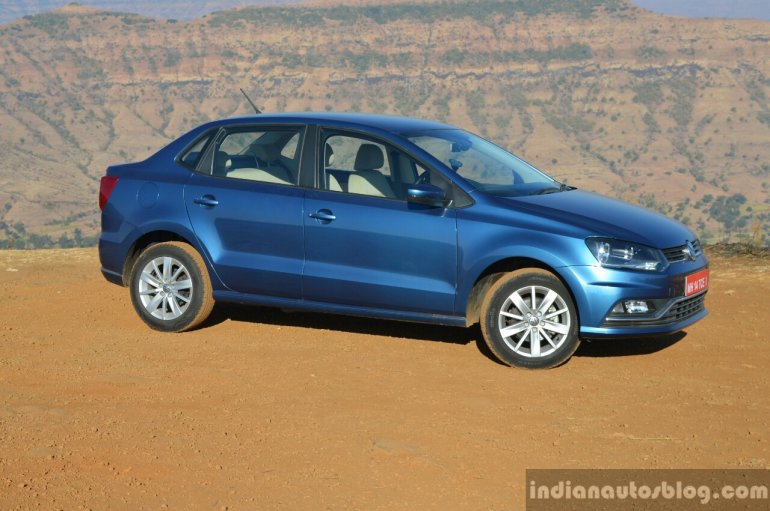 Coming to the exterior, there is - surprise, surprise - no significant difference to the Ameo petrol, save for a TDI badge on the boot lid. Inside, the Polo-sourced cabin is still as impressive as the day we first reviewed the facelifted Polo in 2014. The Highline grade is well equipped with features like an auto dimming IRVM, touchscreen infotainment system with Mirrorlink, auto climate control, cruise control, rear parking camera+sensors, and rain-sensing wipers. Most rivals lack such features, even in their range-topping guise.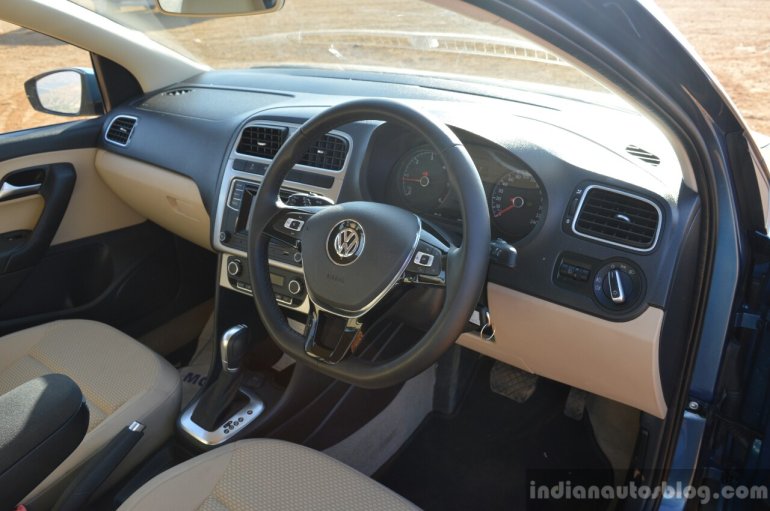 However, the Ameo also picks up one of Polo's biggest criticisms - rear-seat space. Although the rear bench seat is comfortable and occupants get cool air blasted through two rear air-con vents (Highline only), legroom and headroom are sub-par. You get the vibe that the Ameo TDI is a driver's car that just happens to have two rear doors to access some space for people to sit and a short boot to carry shopping bags.
Verdict:
With 108 German horses to tap, buyers complaining about less power from the Ameo now have a solution. From the get go, the VW Ameo TDI feels much more spirited and appealing to an enthusiast than its petrol-powered sibling. In its range-topping Highline DSG variant, the Ameo is the most expensive sub-4m sedan in the segment; crossing INR 10 Lakhs (OTR).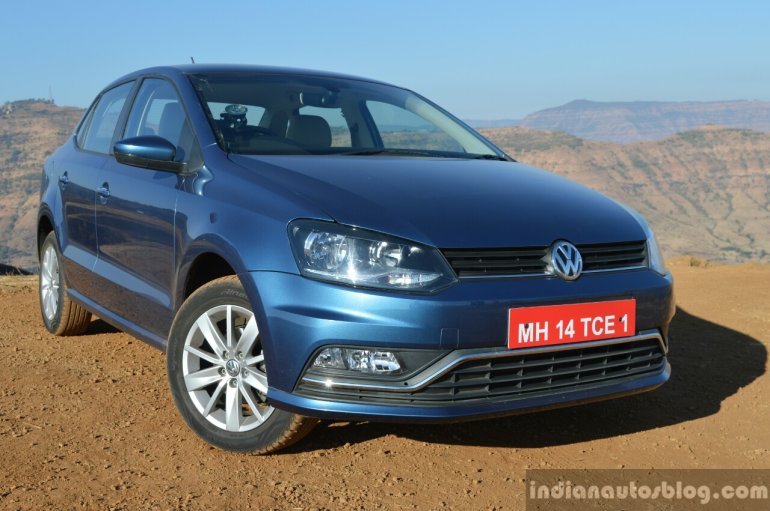 Being a sub-4m sedan, it may sound alarming at first thought, but the Ameo TDI Highline justifies the price tag by offering a well-built cabin trimmed with premium materials, as well as a feature list and powertrain that tug your heart strings. The TDI DSG powertrain is also available in the less expensive Comfortline grade, although you'll miss alloy rims, auto dimming IRVM, rear defogger, rear sensors and camera, and touchscreen infotainment system.
On the powertrain, there is no real competition as all other diesel automatic vehicles sold under said price points are hatchbacks and sub-4m sedans with AMTs (automated manual transmissions) which, in our experience, are inferior to Ameo's 7-speed DSG.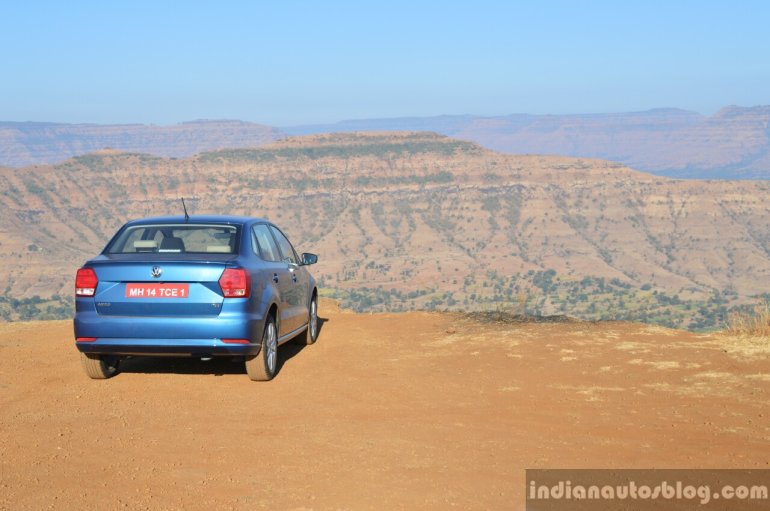 It doesn't sip as less diesel as the Maruti Swift Dzire AGS, but the Ameo TDI strikes a balance between power and fuel efficiency. Besides, 21.73 km/L is a more than acceptable figure for a sedan that belts out 110 PS and 250 Nm of torque through a DSG.
To answer the question posed at the sub-heading: yes, it's indeed the best diesel automatic car for under 11 Lakhs.