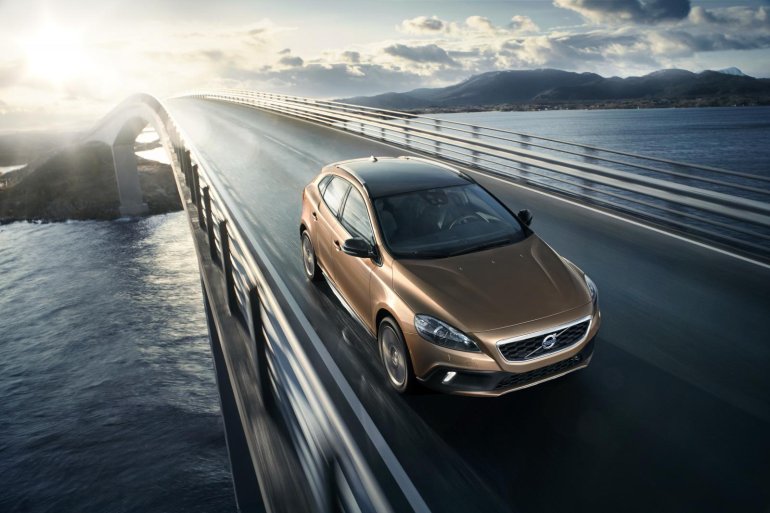 Volvo is planning to bring the V40 Cross Country to India by the end of March next year.
Volvo cars are overshadowed by the big three Germans in India and it's time that the Swedish manufacturer do something to step up its game.
The awareness of Volvo's safety credentials are less prone in our country and the brand doesn't enjoy the snob value of Mercedes, BMW or Audi.
In order to make some dent in the Indian luxury car market, the car maker should come up with a product which would undercut all of its rivals while still offering a rich features list.
Volvo is planning to bring the Volvo V40 Cross Country which was showcased at the Paris Motor Show last month. The car entered production at the company's plant at Ghent, Belgium. The V40 Cross Country became a safety star as the Euro-NCAP crash test results declared that it's the safest car in its class.
The high riding hatchback has few off road add-ons like scruff plates and roof rails. The car has a ground clearance of 173 mm.
On the sidelines of inaugurating new dealership (Artemis Cars) at Coimbatore, Tamil Nadu, which is one of the Volvo's biggest showrooms in the country, Mr. Tomas Ernberg, Managing director of Volvo Cars India said, that the car could be priced around Rs. 25 lakhs, ex-showroom.
On the future targets for India, Mr. Ernberg has said in the past that Volvo would like to capture 15 per cent market share by 2020 and would sell 20,000 cars then.
Volvo will expand its dealership network to 43 from the current 12 by 2020. Volvo's current market share is 1% and the car maker is relying heavily on the V40 Cross Country to bring in the sales numbers.
[Source: Thehindu.com]