Has your Volvo's infotainment system left you wanting for more? Do you feel left out when your buddies use various gestures and touches on their top-notch German entertainment system? Well, help is at hand.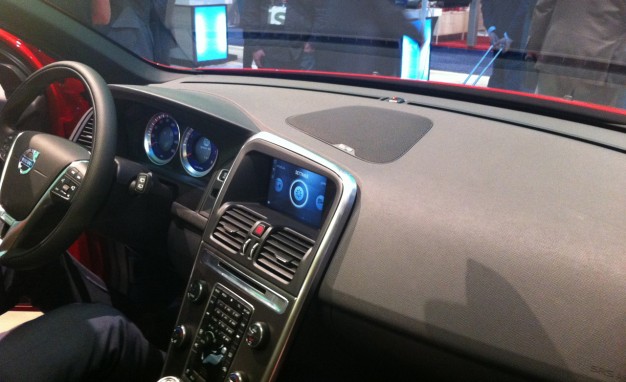 News from the CES (Consumer Electronics Show) usually details on your next smart phone or TV. However, car makers are known to show off their new tech at the event as well. Active headlamps, laser tail-lights and most importantly infotainment and multimedia systems. Volvo has displayed one such infotainment display it has been working on with Ericsson and Parrot and it seems rather interesting.
Its basically an Android based system with a new type of a touchscreen. Do bear with us on this as we may get a bit technical, but we assure you its pretty cool.
How do you turn your standard, factory-fitted screen into a touchscreen? Volvo says that by having IR emitters around the screen, the position of your touch (or even a stylus for that matter) can be detected as it would break the IR beam from reaching the source to the end. The software understands this as a 'touch input' and you're good to go. Perhaps the most brilliant part of this technology is that the standard screen does not need to be replaced! Didn't we say it was pretty cool?
The user on the other hand, does need to understand wavelength properties or IR radiations as theoretically, you wouldn't really know if it is a touchscreen or a normal display made to be touch responsive. The most probable niggle could be a lag between the user 'touching' the option and the system processing it after the IR break has been studied.
Wait, what did we mean by 'you going for it'? Volvo say that this technology will be offered as a dealer-installed retrofit for the initial period before they makes this a factory fitment. So if you're driving a post-2010 Volvo S60, XC60 or even a V60 (with the 7-inch screen), you could soon get in touch with your dealer on the details.
However, we can only wonder how much this system could cost. Wouldn't having a touch panel be cheaper than fitting IR emitters surrounding the screen and developing a unique software specifically for this? Yes, the fact that it can be neatly integrated into an existing car sounds good, but at what price? Volvo haven't announced the pricing yet.
Other features of the system include wireless and 3G availability. Also, if you're used to controlling the vehicle settings (temperature, navigation) through the steering wheel/dash mounted buttons and you fear that you'll have to extend your arm and use the touchscreen from now on, fear not. Volvo says that these standard settings will continue to work the way they do now. It's only if you want to get your music/video going or run various apps like Spotify, TuneIn and Parrot Maps, do you've to use the IR touch system.
[Source: Blog.caranddriver.com]