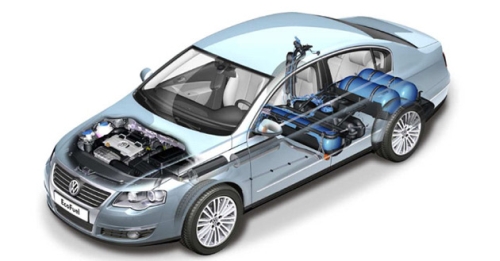 Volkswagen Passat TSI Ecofuel runs a 1.4-liter engine that produces 150bhp
Volkswagen unveiled an Eco-friendly, Green version of its Passat named Passat TSI EcoFuel concept. This vehicle was showcased at this week's Bologna Motor Show. Capable of using both petrol and natural gas to run, the EcoFuel cars are powered by a 1.4L TSI engine which produces 150 Bhp (112kW).
The engine capacity may be small but this one has both fuels operating sequentially to provide relatively high power outputs from its small capacity. In order to allow the engine to cope with the additional loading the valves, piston rings and the pistons are all uprated to cope, while the smaller turbocharger increased low-end response.
Volkswagen Passat TSI Ecofuel engine management system controls the switch between petrol and natural gas
The natural gas is stored in three tanks with a combined capacity of 22kg mounted beneath the trunk. This is supplemented by a 31L tank for petrol.
Volkswagen Passat TSI Ecofuel range is around 500 miles (800kms)
With a top speed of 130mph and the capability to accelerate from 0 to 62mph in 9.8 seconds, it is viable for everyday use. In normal conditions the vehicle consumes 4.5kg of natural gas every 100km. With a DSG dual-clutch gearbox, the Passat EcoFuel will emit less than 120g of CO2/km, about the same as a much smaller compact hatch. VW has not announced any production plans yet, but this car will get a green signal for its fuel economy alone.