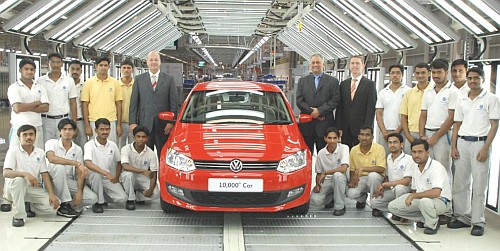 Volkswagen India has a very potent hatchback in its hands, the Polo. The Volkswagen Polo's build quality matches cars that are several segments higher. The bold crisp look of the Polo and the VW badge has fetched a considerable amount of bookings despite its high price tag.
The Volkswagen Polo received a decent number of bookings and VW India is not able to meet the demand for the Polo. The Polo has a waiting period of 4 to 6 months currently and there are a number of customers who are growing impatient and canceling their bookings. That's the saddest thing that can happen to a carmaker.
Volkswagen India has delivered 4,500 Polos so far and it has an order backlog of over 10,000 currently.
The Volkswagen Vento would be reaching showrooms by the end of this year and we feel the Vento (if priced well) could run off to become a huge success and get a large number of bookings. This could further add to Volkswagen's woes as order backlogs would continue to increase leading to losing customers because of long waiting periods.
VW India could also delay the Vento's launch till they clear the order backlog for the Polo sufficiently.
Neeraj Garg, Director, VW India -
Waiting period for the Polo is four-six months. Whatever commitments we make to the customer, we've been able to honour that. There have been few cancellations by customers, around 30 to 40 from time to time. Immediate ramp-up is definitely not possible right now, because our plans are made accordingly. There will be no change in the short-term. In case we continue to have similar order bookings, we will build much higher capacities as quality gets matured.
Waiting periods play a very crucial role in any car market especially in the Indian small car segment, where the competition is cut-throat severe. VW can't afford to lose Polo customers to the Ford Figo or Chevrolet Beat just because it can't ramp up production and deliver cars faster.
Ford India hit the bulls eye with the Figo which is dashing to the 25,000 bookings mark. Ford did the wise thing by adding a second shift for the Figo's production. The company even began exports of the Figo to South Africa.
Has Volkswagen India bitten more than what it can chew with the Polo?
Source: Businessline