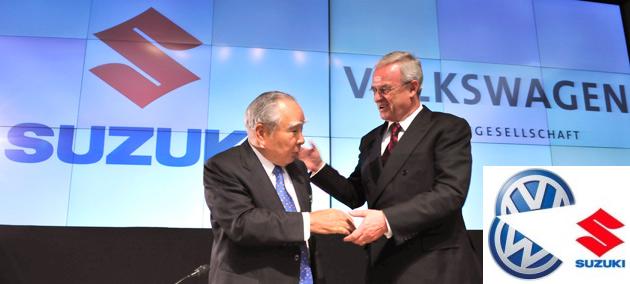 Volkswagen now owns a 19.9% stake in Suzuki and now the German car maker could benefit from Suzuki's frugal engineering and packaging techniques which appeal greatly to developing markets especially.
Volkswagen which is a new entrant into the Indian car market made a bold move by investing 3,500 crore Rupees in its Chakan Plant, Pune. While Maruti Suzuki already has a strong presence in India with more than 55% share in the Indian car market.
Christian Klingler, Management Board Member, Volkswagen -
Of course, there is a possibility of developing products together, (but) I cannot confirm it. Suzuki is very strong in the Asian market, including India and Japan. They have knowledge in the small car segment, which is pretty unique. They make small cars and make money. Lot of manufacturers make small cars, but they don't make money. Suzuki has lot of interest on the technologies that we have. There are lot of discussions going on about synergies and one synergy could be at the suppliers' level as well.
The Volkswagen-Suzuki partnership could develop products globally and this partnership could extend to a partnership with Maruti Suzuki in India and thus VW would benefit hugely from the Japanese company's cost-effective manufacturing techniques and its Indian arm's strong supplier base.
Suzuki could have access to VW's modern TDI diesel engines, TSI petrol engines and the DSG transmissions. The next gen 2011 Suzuki Swift could be benefit from these and could come with VW diesel engines and DSG transmissions.
The Suzuki Kizashi could also use VW engine when it comes to India while the next generation SX4 and the next gen Grand Vitara could share their platform with Volkswagen models.
Volkswagen UP, global small car is being developed by VW and a partnership with Suzuki seems to be coming at a right time as Suzuki's prowess could really help VW package the UP cost effectively.
Click here for detailed product plans of the Volkswagen-Suzuki partnership.
Source: ET