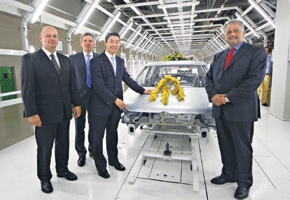 Volkswagen India has started the pre-series production of its new small car - Polo at its new plant in Pune. The German Federal Minister for Economics, Labour and Transportation Dr. Philipp Rösler, visited the plant at Chakan in Maharashtra to start off the event.
The first body of the Polo took shape at the pre-series production, viz a pre-run/a trial to the official production of the Polo that will begin at the same plant this year end.
VW's Pune plant which was inaugurated on 31st March '09 (1 year ahead of schedule), is to be a major stepping stone for the company to achieve its ambitious goals in the Indian subcontinent. The Pune plant will begin building the Skoda Fabia in May 2009 and the Volkswagen Polo by year end. 
This plant, considered one of the most modern in the Volkswagen Group, has a high level of vertical integration and a large share of local suppliers. The facility has a maximum annual production capacity of 110,000 vehicles for delivery to the Indian market. In order to keep up with the demand, the company plans to employ some 2,500 people by the end of 2010.