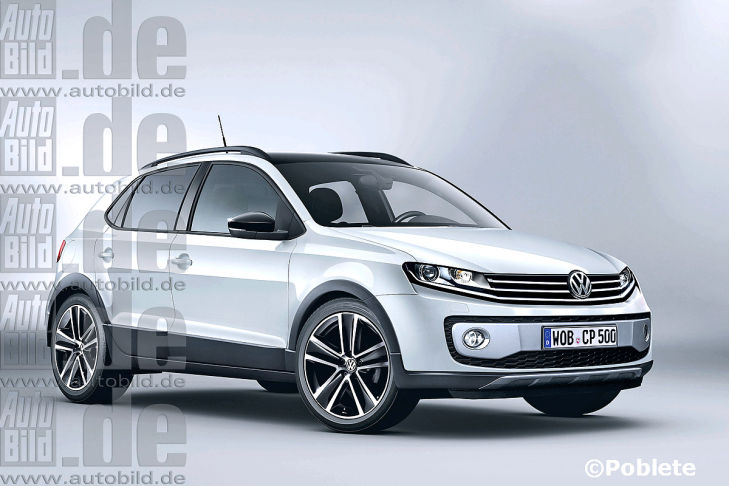 As we all know, Volkswagen plans to take over the world by 2018. The German automaker is leaving no stone unturned to reach a target volume of 10 million units annually by 2018.
Volkswagen wanted to partner with Suzuki to develop multiple crossovers. Unfortunately, the deal fell through and Volkswagen lost a lot of time in the process.
To compensate for the loss, Volkswagen is developing a slew of crossovers to capture the global markets in the second half of the decade.
VW Polo Crossover
Based on the MQB-A0 platform, this isn't an 'Cross' version of the Polo. This is a proper all-terrain vehicle with all-wheel drive, a dual-clutch gearbox, off-road aesthetics, skid plates, heavy-duty suspension and all-season tires. However, Volkswagen also plans to offer a front wheel drive version of the Polo crossover for the non off-road enthusiasts. Expect a range of TSI and TDI motors under the bonnet. Yes, this will come to India, no VW India has not confirmed anything, but do we need to wait for a confirmation considering every other auto maker is busy preparing a similar model?
The same platform will also underpin the next generation Skoda Yeti.
Volkswagen Tiguan replacement
The Tiguan is a very popular crossover in developed markets. In late 2014, Volkswagen will bring in a new Tiguan which will share most of its mechanical components with the Golf Mk7. The all-new Tiguan will be lighter, more spacious and more agile. The Tiguan family will be extended to a CC variant and an LWB variant exclusive to China.
The same platform will underpin Seat Tribu and the Skoda Snowman (seven seat) crossovers.
Bigger VW Crossovers
Audi is empowered with creating the MLBevo platform to underpin much bigger SUVs such as the Audi Q7 and Volkswagen Touareg. The MLBevo platform will come in two different wheelbase options: 114.0-inch standard and 118.9-inch extended.
Audi (for the Q7 and Q8) and Bentley (for EXP 9 F SUV) have chosen the long-wheelbase version of the platform. Volkswagen (for Touareg), Porsche (for Cayenne), and Lamborghini (for the Urus) favor the shorter version.
Multiple Alltrack variants
Just like how the VW Passat comes in an Alltrack variant which is essentially a slightly jacked up sedan with some off-road garnish, Volkswagen plans to launch Alltrack version of the Up! and the recently launched Golf MK7. They will be aimed at a more lifestyle-oriented clientele.
Back home, Volkswagen India is working on new strategy for the Indian market. After the appointment of Mr. Arvind Saxena as the managing director for its passenger car division, we quickly saw updated variants of the Polo and Vento coming to the market. Mr Saxena, having served the Indian auto industry for so many years, must have seen the untapped potential in the sparsely populated crossover segments. Mr. Saxena, can we see these new crossovers on Indian streets as and when they are available in RHD configuration?
[Source: Automobilemag.com & Autobild.de]