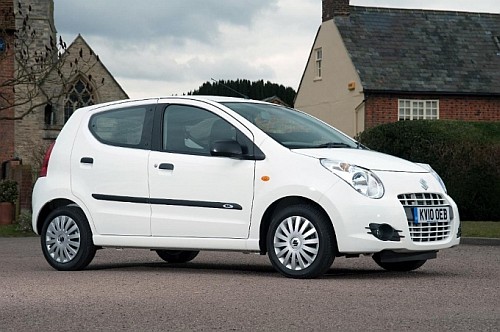 Suzuki UK has launched a 'Special Edition' Alto (the Maruti Suzuki A-Star in India) for the British market. Only 500 numbers of this 'super-exclusive' Alto edition would be made and that's not surprising at all. The car is christened the Alto SZ-L.
Drastic changes to the car's exteriors include new wheel caps, black fog lamp surrounds and the SZ-L badge on the tail gate and side-strips. On the inside the car gets SZ-L mats, silver surround on the AC vents and body colored finish around the AC control switches and door handles. The car comes only in two colors Superior White and Bright Red.
Could this special edition Maruti Suzuki A-Star come to India? No. Not now. Maybe later.
Maruti Suzuki is currently concentrating only on launching special editions of the Zen Estilo. After it realises that the Zen Estilo wouln't really take off and only a replacement could do good, Maruti Suzuki would find time to understand the A-Star needs a facelift and then would toil hard to launch a 'never seen or heard before' special edition of the A-Star.

With competition heating up and arch rival Hyundai readying the facelifted i10, we guess Maruti could have plans for a 'facelifted' A-Star for India. Possibly with the automatic transmission we were speculating about.
Suzuki A-Star Special Edition for UK gallery -
Source: Wheelosphere