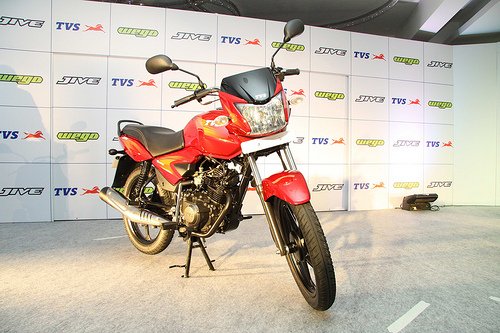 TVS Jive is India's first clutch-free motorcycle
Two New Launches from TVS Motor Company
~TVS Jive and TVS WEGO to hit the market~
Chennai November 25, 2009: TVS Motor Company today unveiled two novel products - India's first auto-clutch motorcycle and an automatic scooter. Unveiling the new motorcycle and scooter, the company's Chairman, Mr. Venu Srinivasan asserted that these two products are set to transform the very definition of city commuter biking. Ride convenience is the focal point and both products will provide a sporty riding experience with an unparalleled combination of comfort, performance, ease of operation and fuel efficiency.
Christened TVS Jive, the new motorcycle is propelled by a 110 cc engine which features innovative T-Matic technology* (patent applied for) which features a rotary gear technology coupled with an automatic clutch. The bike's four speed engine delivers a solid four stroke performance with 8.1 Bhp @ 7500 rpm and a torque of 8.1 Nm @ 5500 rpm. TVS Jive's light weight at 110 Kgs makes it convenient to handle. Alloy wheels complement the bikes wheelbase of 1260 mm which makes cornering and maneuvering effortless. The bike has a fuel tank capacity of 12 litres with two litres as reserve.
TVS Jive is packed with features* and superior technology* that make it one of the most convenient motorcycles to ride in the country. One of the major features of this motorcycle is the absence of the clutch lever, making riding on this motorcycle a hands free gear shift experience. The bike therefore can be ridden by almost anyone who has a sense of balance as there is no need for manual clutch-gear co-ordination while shifting.
A unique feature of this motorcycle is its anti-stall mechanism which makes smooth riding possible at low speeds even in high gears, without the engine shutting off. This is not possible in motorcycles with the regular clutch system. The downward rotary gear system enables the rider to reach neutral straight from top gear. However, it is not necessary that the bike has to be in neutral while starting. The bike can be started in any gear and is fitted with an electric start for convenience. It is also the first motorcycle in the country to have an under seat storage space, large enough to hold a water bottle, vehicle documents and even a small umbrella.
Each unique feature emphasizes the overall objective - ease and convenience of use.
TVS Jive is priced at Rs 41, 000 (Ex-showroom Chennai)
TVS Wego
Complementing the motorcycle is TVS WEGO, the multi-user, family-friendly and sleek metal bodied scooter that strikes a perfect balance between stability and maneuverability, power and mileage, sturdiness and ease, making it a delight to ride for any category of users; men and women, young and old.
TVS WEGO comes with a 110 cc engine that delivers a peak power of 8 BHP @ 7500rpm. TVS has made use of vehicle simulation models, computational fluid dynamics and frequency response analysis techniques to ensure smooth and noise-free engine and best-in-class ride comfort and handling. The all aluminum low-friction engine ensures best-in-class mileage. Multi-reflector halogen headlamps and LED tail lamp with optical guides give the scooter dynamic styling better described as urban dynamism.
One of the unique features* of TVS WEGO is its Body Balance Technology that enables lower steering effort, better control and maneuverability through optimum vehicle mass and mass distribution, making it the best scooter to handle in city traffic conditions. Other innovations* that are first in its category are twelve inch alloy wheels, sleek contour body, LED Tail lamp with optical guides, external fuel fill with hinged cap, an integrated glove box, twin city lamps, maintenance free battery, gas filled rear shock absorber, under seat combo charger to charge the vehicle battery as well as a cell phone and patented EZ center stand. The scooter's under seat storage space that can hold a full face helmet.
With the launch of TVS WEGO, TVS Motor becomes the only company with the widest range of scooters in the market starting from the entry-level Scooty Teenz, Scooty Teenz Electric to the iconic Scooty Pep+, the snazzy Scooty Streak and now the TVS WEGO.
While the TVS Jive, which will be available in colours of blue black and red,
TVS WEGO will come in cappuccino brown, golden beige, silver, black and dark blue.
TVS Wego is priced at Rs.42,500 (Ex-showroom Chennai)
* Patents Applied For
Pricing details courtesy of vicky.in
TVS Jive and Wego Image Slideshow
If you can't view the slideshow above, view the TVS Wego and Jive Image Gallery directly