Priced from INR 88,542 (ex-showroom Mumbai).
The TVS Apache RTR 200 4V that was introduced in January this year is finally reaching its customers. According to a report on BikeAdvice.in, the company has commenced deliveries of the Apache RTR 200 4V in select cities. A Mumbai dealer has said that the 200 4V model of the Apache series is priced at INR 88,542 excluding taxes and other on-road costs, but this figure shoots up to INR 1,05,600 post taxes and other on-road costs.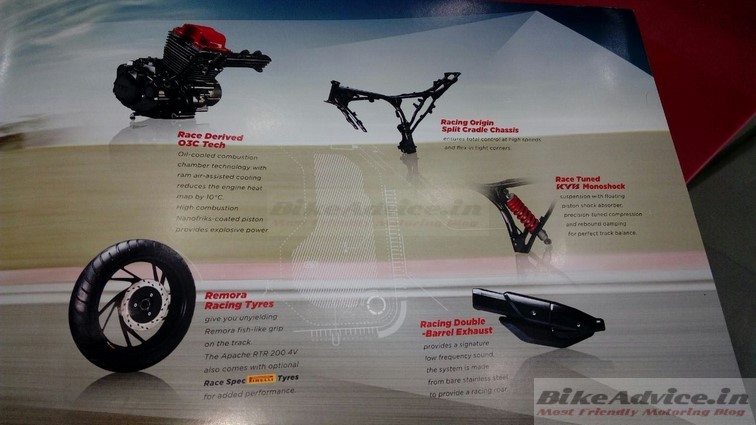 According to the report, the TVS Apache will be available in six variants. Three variants are carburetted and three variants have electronic fuel injection. Other differences include Remora and Pirelli tyres and fitment of ABS. Currently the base variant (carburetted, Remora tyres, non-ABS) is being delivered. Neither fuel injection, nor ABS is available as of now.
The 197.75 cc engine of the carburetted variant of the TVS Apache RTR 200 4V produces 20.05 PS (20.21 hp) at 8,500 rpm and 18.1 Nm of torque at 7,000 rpm. When aided with electronic fuel injection, this oil-cooled single-cylinder engine produces 21.0 PS (19.72 hp), although the maximum torque remains unchanged. There's no 6-speed transmission available irrespective of the variant; a 5-speed transmission is standard.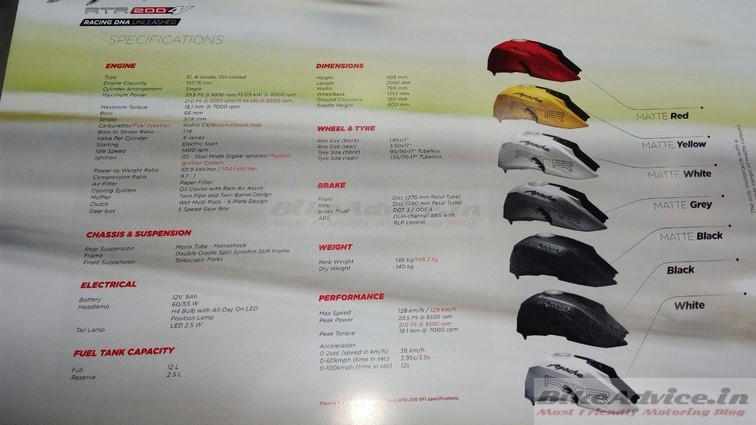 Also Read: Production TVS Akula to be called TVS Apache RTR 300
The TVS Apache RTR 200 4V can reach from 0-100 km/h in 12 seconds flat. The carburetted variant is marginally slower in initial acceleration though, as it takes 3.95 seconds to reach from 0-60 km/h, which the fuel injected variant can do in 3.90 seconds. Its top speed is limited to 127 km/h. TVS offers the RTR 200 4V in seven colours: Matte Red, Matte Yellow, White, Matte White, Matte Gray, Matte Black and Black.
[Source: BikeAdvice.in]