Price ranges from 19,300 Euros to 42,000 Euros.
The 8th generation Toyota Hilux pickup which made its European debut at the 2016 Geneva Motor Show has been launched in France.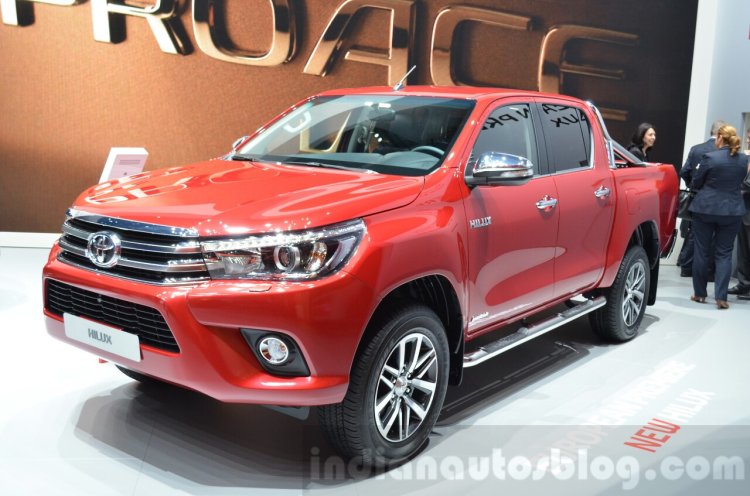 Manufactured at two of Toyota's plants in Thailand, the Hilux truck is exported to over 130 countries, of which Australia, New Zealand, South America, the Middle East, and the UK are larger importers. Exports from the Asian nation began during the turn of the second quarter of the last fiscal year.
The 2016 Toyota Hilux is manufactured with three engine choices comprising of one petrol engine and two diesel mills. The 2.7-litre 4-cylinder VVT-i petrol motor that produces 122 hp maximum power and 245 Nm peak torque, is the same as the one featured in the previous iteration of the pickup. In France, the only engine offered is the four-cylinder 2.4-liter 'GD' diesel that generates 150 hp and 400 Nm. It is mated to a either a 6-speed manual transmission or to a 6-speed automatic transmission. The new engines are claimed to have achieved a 10 percent hike in mileage as compared to the motors they have replaced.
Also Read: Toyota Motorsport builds a 455 PS Hilux to celebrate 1 million units
Toyota Hilux price in France
Utility (HT) version:
Hilux chassis cab BVM6: € 19 300
Hilux 4WD single cab BVM6: € 21 850 HT
Hilux Xtra Cab 4WD BVM6: € 23 350 HT
Legend Hilux Xtra Cab 4WD BVM6: € 26 700 HT
Family version (VAT included):
Hilux 4WD Double Cab BVM6: € 30,700 VAT
Hilux Double Cab 4WD Legend BVM6: 35,000 € VAT
Hilux Double Cab 4WD Legend BVA6: € 36,700 VAT
Lounge Hilux double cab 4WD BVM6: € 40,300 VAT
Lounge Hilux double cab 4WD BVA6: € 42,000 VAT