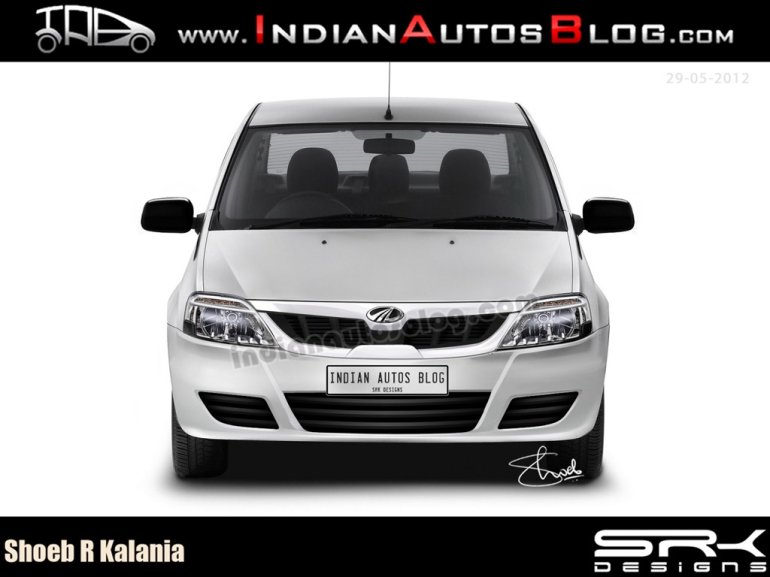 Readers of IAB were recently were treated to artist impressions of the Mahindra Verito facelift. After spending time carefully analyzing spy shots, we bring you an updated rendering today. We can assure you this is uncomfortably close to the car arriving later this year!
The most prominent change is the chrome grill. A chunky grill border is packed with vertical slits in black plastic finish. The Mahindra logo is enclosed in the trapezium. The lower part of the grill is another beveled trapezoidal polygon bringing a sense of changing surface that adds more character to the otherwise simple face.
Pumping more life into the front fascia are the new crystal-clear headlamps. The exterior profile of the new unit remains similar to the current car but the detailing has changed. The indicators are placed on its head, with an edgy and modern look.
The bumper sports a similar look to that of the Xylo. The vents are horizontal slits. Fog lamps like those seen on the new Xylo could make their way into the higher variants.
The hood is finished off smoothly, very unlike the present car which has a sharp line running across its length. The wipers are relocated to suit a Right Hand Drive car (earlier ones moved in opposite direction). The side mirrors have grown. Mahindra has covered the linkage of the mirror to the body lending it a neat look.
The rear-end is gifted with new tail lamps. The redesigned boot is more functional with the inclusion of a registration plate. The smoother bumper have embedded reflectors.
Unlikely to change drastically is the interior but we hold on to the one hope that Mahindra can come up with a techy digital console, à la Bolero. A minor update to the upholstery should invite praises.
Technically the car is robust, so the need to make changes to the powertrain is unnecessary. Powered by the 1.5-liter K9K diesel engine, this unit has been a loyal servant on the Logan and Verito.
Mahindra is also working on a sub-4 meter version of the Verito, for tax benefits, that leads to affordable Verito variants. This model is also expected in the months to follow.