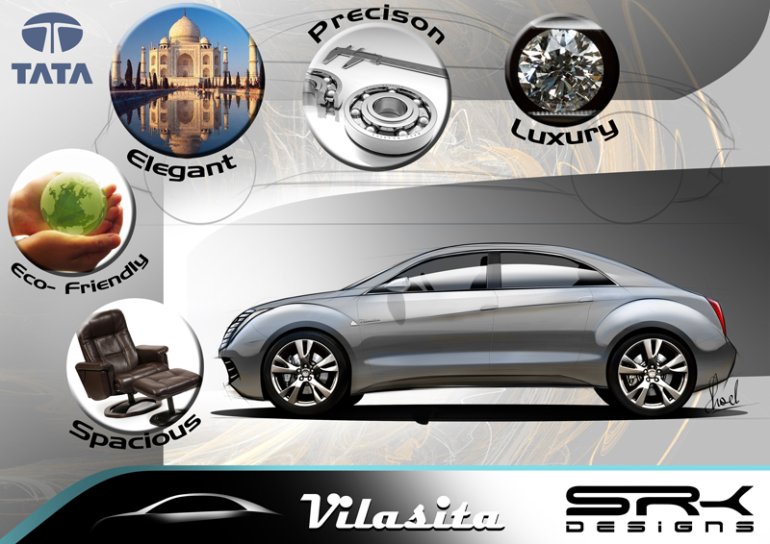 By SRK (Shoeb R Kalania)
Note - This post is purely imaginative and need not have any connection to the cars in Tata Motors' drawing board.
I present to you Vilasita from Tata Motors.
Vilasita is a Hindi word which translate to "Lap of Luxury" and I have chosen this name for this new Tata Motors sedan that's expected to rival vehicles like the Honda Accord and Skoda Superb.
Priced at around 20 lakh rupees, the Vilasita has all features of a modern imported luxury vehicle.
Exterior Styling
* Vilasita carries familiar Tata styling.
* This particular car boast of a long wheel base and an aerodynamic body shell.
Interior Styling
* The interior will boast of the best materials and the fit and finish would be top notch.
* The design itself would make the interiors spacious and provide the passengers the feel of being in their arm chairs or drawing room couch.
Safety features
* ABS, EBD, TCS, Airbags would be standard across the range
* Lane Change Assist, Night Vision, Collision Avoidance System would be available as an option and standard on top end models.
Eco Friendly
* Start-Stop system across all models.
* Platform ready for Hybrid and Fuel Cell variants.
Other Features
* Adaptive Headlights
* Smart Key
* Push start
* Mood lightning
And More....
This car would be made with inputs from engineers and designers at Jaguar. Quality could be class leading, while the powertrains will come from Jaguar as well. A long wheelbase variant could make it a very affordable luxury car.