Is Tata Motors going to take down one emerging market after another?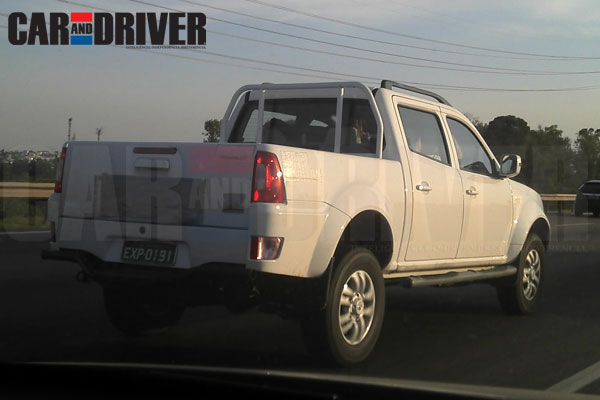 Soon after the announcement of the Indonesian operations, spottings of the Tata Xenon pickup truck testing in Brazil have intensified.
Higher officials at Tata Motors have discussed the possibility of a local manufacturing plant without being specific. In a recent interview, an official said the identification of the correct products for the Brazilian market was underway and if the Brazilians are fond of Tata's offerings, the installation of a local manufacturing plant would naturally follow.
This image is brought to us by Car & Driver reader Rafael Kalora. C/D writes that the SHC group, importers of Aston Martin, Jaguar and Chinese vehicles JAC, and run by Sergio Habib, may soon add Tata Motors to their collection.
We have to wait and see if Tata uses the Auto Show in Sao Paulo that runs from October 24 to November 4 to introduce the vehicle officially to the Brazilian population. C/D compares the Xenon with the Chevrolet S10 (pickup cousin of the Trailblazer) and claims the 2.2L (DICOR) diesel engine may meet emission norms in their country, while being suitably powerful to its target owners.
Tata Motors may not be delivering a sizeable number of Xenons in the Indian market, but markets that have taken a liking to this segment such as Thailand, have many on their roads.
C/D estimates that the Xenon single cab will set one back by 50,000 Brazilian reals (13.27 lakh) and the double cab will cost 70,000 Brazilian reals (18.59 lakhs).
[Source - CarAndDriverbrasil.uol.com.br]