Tata Nano has been going places in the recent times. The little car's latest stop is Vietnam.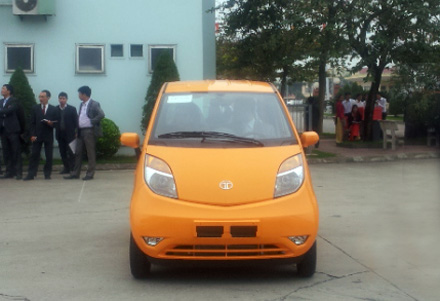 Nano recently visited Jamaica for promotional runs ahead of its launch there. Now Tata Motors has shipped 50 LHD Nanos to Vietnam so as to make the dealers familiar with the car before its proposed launch in February 2013.
The 50 Nanos will also be introduced to the prospective customers and to study the market for the appropriate pricing. The cars will also be used to ascertain whether any changes are to be made in order to make it better suited for the Vietnamese market and climatic conditions.
Vnmedia.vn reports that Nano's interior plastic is found to be unsuitable for Vietnam's hot and humid climate and some plastic structures could crack since the interior plastic is chosen with milder Indian environment in mind. Tata Motors will study the performance of these 50 cars and make necessary modifications before launching the car in Vietnam.
The Nano will be imported and distributed by TMT Motor Corporation. TMT and its dealers are reportedly in the process of arriving at the prices for the Nano. The entry level prices are expected to be in the vicinity of 190 million Vietnamese Dong (around Rs. 5.02 lakhs).
Come February and the Nano will be will enter Vietnam as a CBU. Vietnam is expected to be the first of many LHD markets for the hatchback.
[Source: Vnmedia.vn]