Few have seen the Tata Nano up close, and even fewer have had the chance to drive the car. Tata Nano test drive reports are hard to find. On that basis, you wouldn't want to miss what we have in store for you, would you?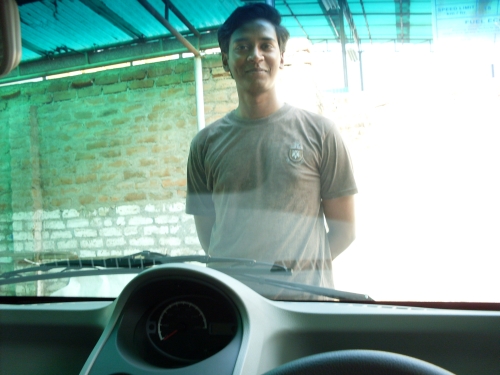 A five year old's definition of a car could possibly be like so - "Something with four wheels, a roof, seats for four, can travel faster than walking"
When Indian Autos Blog Managing Editor, Mr.Shrawan called me up to inform that a Tata Nano was waiting to be driven, I wasn't exactly the happiest man on the planet. Having driven Mercs, Beemers and a Corvette for pete's sake! 'it takes more than a Nano to get me excited Shrawan', I said to myself.
While on my way to the Nano test drive spot, thoughts about the most common flaws in small cars (panel gaps, poor quality plastics, etc..) kept me occupied apart from driving. I framed a checklist of all of them, but then, its the cheapest car in the world, how can it possibly survive such a scrutiny? Having no answer for that question of mine, I prepared myself to see something very basic, crude and half done, something very close to the five year old's definition of a car.
I was there, after an hours drive, to see a very excited Shrawan, eager to hop into the Nano for a spin. He had already seen the car at the Mumbai launch, but never got the chance to drive it. At first glance, the shiny silver Nano simply kicked me out of my pants!
At a 60 degree viewing angle from its front, with its tall stance, the car looked very good (way better than in pictures). At once, we began our flaw finding session hoping to find many with ease. To our surprise, we couldn't find any major flaws - no aluminium foil body work, no flexible doors, no cardboard bumpers, no wooden gear lever, no plastic seats, no fabric dashboard, no train sized panel gaps.
I was amazed to find out that Tata Nano felt very much like a regular car. All that was left was to get in and drive it.
Once the engine was fired up, I was annoyed a bit. The engine was quite noisy (from outside), and the vibrations inside the car could be easily felt. Interior space (all seats) was adequate for six footers like me and Shrawan.
The car's Aircon was powerful, but there is some compromise in power going to the wheels. The ride was surprisingly comfortable, and hand on my heart, I never felt insecure at any point while driving the car.
These are just my first impressions of the car. A king sized Exclusive Tata Nano review is in the making. Stay tuned to this space!
The Tata Nano phenomenon and my take
If I were offered Rs.1 Lakh as cash on one side and a Tata Nano on the other, I would grab the keys to the Nano and drive it home. Why didn't I settle for the cash then? Well, that's simple, i didn't want to be a wreck- pondering over how I'm going to spend the lakh.
How much of a 'functional thing' can you buy with a Lakh anyway? A High-Definition TV ? A sophisticated audio amplifier? A decent gaming laptop perhaps? Now, compare these to the functionality of a car. Get what I mean?
I'm not saying the Nano is the best car or the best replacement to all the other cars on the road. The Nano has shown me the value of One Lakh Rupees - the extent of functionality the same amount can pack.
When you look at the Nano as a 'thing' and not a car, you will agree that its quite a tremendous technical achievement. It goes beyond the five year old's definition of a car.
It definitely gets my thumbs up, a job well done by Mr.Tata and the Nano team, for which they deserve all due credits.