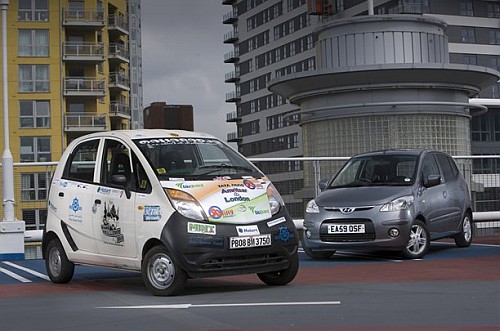 The Tata Nano has kicked up reverberations that traveled around the planet. Hardly a few languages have not described the Nano, which suits almost every type of landscape with its frugal engine, voluminous cabin and cheerful looks.
One man in Britain wasn't going to wait for the Europa (European Tata Nano) to arrive in 2012-13. Mesmerized by the well-engineered city car, he had waited long enough and had no more patience to spare.
He flew down to India, bought a Tata Nano from the Punjab dealer and decided to drive it back to Britain. He covered a distance of 6,000 miles with his car, which on arrival was as good as new.
Our friends at Autocar UK have used this as an opportunity to pit the Nano against the Hyundai i10, which to them is the best-value city car money buys in the UK.
You'd have to buy a copy of the magazine to read the complete coverage, but the excerpt provided on the website reveals a generous amount of information. Autocar UK says the Nano Europa, which Londoners don't have to come to India to buy, will comply with stricter Euro 5 emissions standards. It will have disc brakes, ABS and a more capable ECU as well.
Head over to the Autocar UK website to catch a glimpse of this strange, yet sensible comparo.