How often have you read something like this?
A Tata Nano was spied on board a flatliner in the country of France.
This image was taken by Auto Plus reader 'Carlos94' somewhere in the Toussus-le-Noble commune. Tata Motors does not sell the Nano there, and there has been no mention of selling it there either.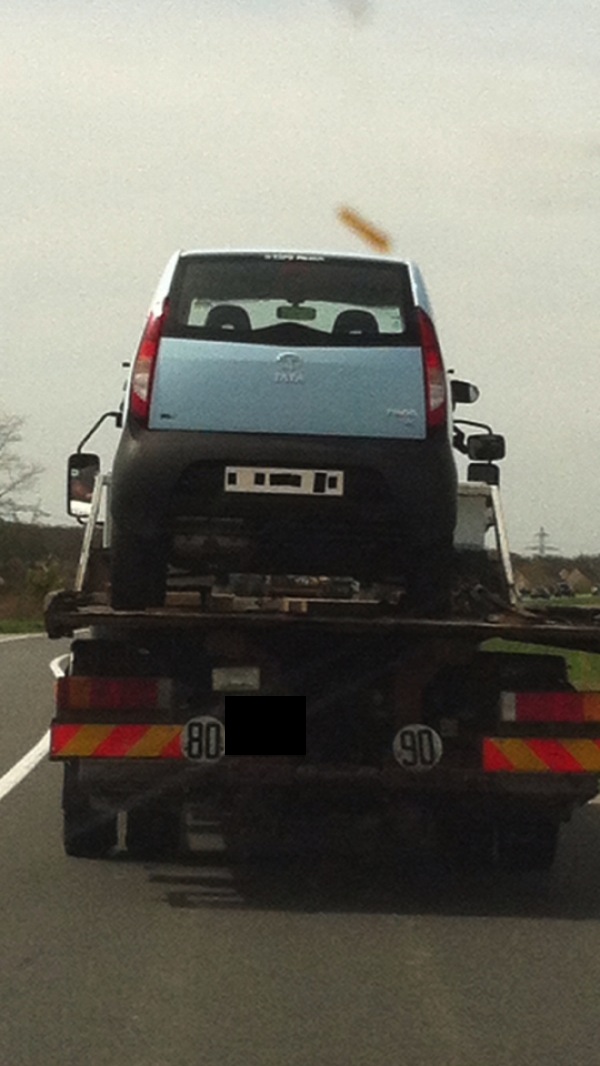 If you observe closely, you can notice that this is a pre-2013 Model Year Nano as it does not sport the air vents on the rear bumper. The BS4 badge is clearly visible and so is the brand sticker of some authorized Indian dealership on the top of the windscreen.
So what do we think is happening?
1. Tata Nano Air Powered Car - Yes, this Nano has an engine, given away by the exhaust pipe. But maybe, this is being transported from India to the facilities of MDI (Motor Development International) which is located in France, about 36km away from where the car was spotted. MDI is responsible for the CAT (Compressed Air Technology) car and they had signed an agreement with Tata Motors to sell their products in India. A Tata Motors official told IndianAutosBlog at a recent media program that they were approaching an advanced stage of development in CAT and the platform used to make this breakthrough was a Tata car (though they refused to identify which particular one it was).
2. The Nano is on a benchmark mission - Renault say that they are going to be focusing a lot on cars the size of the Twizy and the Smart ForTwo (Renault is even going to badge engineer the next gen Smart ForTwo). So maybe this Nano would be used for benchmarking purposes for a new small car? Maybe Renault or any other car manufacturer for that matter.
3. There's a component supplier in France who is about to do some studies or testing.
If you've a better speculation, leave it in the box below.
[Image credit - AutoPlus]