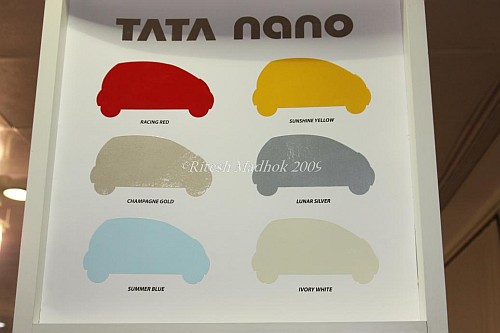 Maruti is ready with five CNG (Compressed Natural Gas) models and will put them on the market all in one day this month. So what has this prompted Tata Motors to do?
Ans - Develop a Nano CNG!
If a report on Velociti Magazine can be believed, Tata Motors is developing a CNG variant of the Nano and is busy testing it on the outskirts of Pune. The grey vehicle with black bumpers spotted testing had the CNG sticker on its windshield and looked like it was in the final stages of development.
Tata Motors is developing a diesel engine for the Nano which is widely believed to be a sub 800cc engine with CRDI technology from Bosch. Tata has also shown interest in the electric vehicle space by exhibiting a Nano Electric prototype at the Geneva Motor Show back in March. Tata is also working on a higher displacement petrol engine for the export markets. Developments such as these don't make the Tata Nano CNG a hard one to swallow.
CNG is catching up quickly in India and the retail web is only getting wider and denser. Running a car on CNG comes second only to electricity in terms of cost.
Source - Velociti Magazine