Following are the news highlights of the past week in the auto markets of Nepal and Bangladesh.
Nepal:
1. Tata Movus launched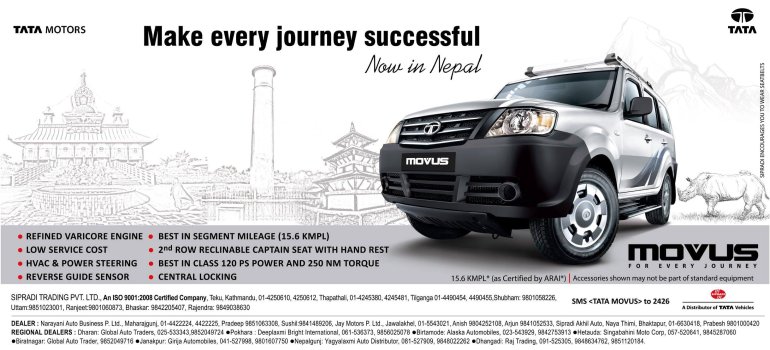 Tata Motors launched the Movus in Nepal and priced it at 3.18 million NPR (INR 19.82 lakhs). The Movus in Nepal is identical to the car sold in India. The car was launched by Sipradi Trading, the sole and authorized distributors of Tata Motors in Nepal.
2. Toyota Etios Liva launched
The Etios Liva hatchback went on sale in Nepal as well. The Liva for Nepal is available only with the 1.2-liter petrol engine and is priced from 3.345 million NPR (INR 20.9 lakhs). United Traders Syndicate are the authorized distributors of Toyota in Nepal.
3. Bajaj Pulsar Adventure -
HH Bajaj, the distributor of Bajaj vehicles in Nepal, is conducting what it calls the first ever Bike Reality Show. The event will give 10 Pulsar bikers an opportunity to ride on all kinds of terrains, says the company. More details are available on HH Bajaj's Facebook page.
Bangladesh:
1. Central bank doubles car ceiling loan, sales expected to improve
Bangladesh's central bank, Bangladesh Bank (BB), has increased its car loan ceiling from Tk 20 lakh to Tk 40 lakh (increased from INR 15.73 lakhs to INR 31.46 lakhs). The debt-equity ratio too has changed from 30:70 to 50:50, which means that a customer can now avail a loan of up to 50 percent the price of the car.
The move comes on the back of higher market prices for cars, an the increased demand for vehicles. Car sales are expected to increase slightly in Bangladesh, thanks to this recent change.