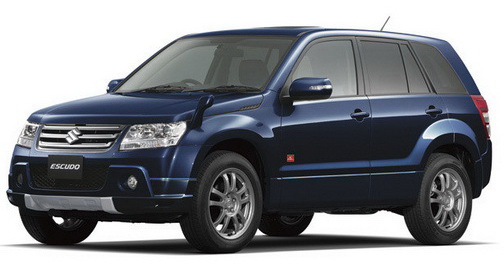 After bringing on the new third generation Grand Vitara, Suzuki is not sitting back. It has gone ahead and launched a limited edition Escudo (the name by which Grand Vitara sells in the Japanese market).
Joining hands with surf wear and equipment brand "O'Neil", Suzuki has introduced the special edition limited to 600 units.
The 2.4L XG model would be available in this unique form, but only in Japan. The rest of the world will have to wait and watch the success of this venture which may then spark more such special units for the rest of the world. India could sure do with a revamped and exclusive Grand Vitara to bring back the enthusiasts.
The limited edition Escudo's (as the Vitara is known in Japan) features include waterproof seat fabrics and floor mats, gunmetal-gray alloy wheels, chrome grille, skid panels in a matte aluminum finish and upgraded standard equipment.
This edition of vehicles is available in three exterior paint jobs, (black, blue and white) with matching interiors. This off–road athlete has got to be appreciated in this new look.
Suzuki Vitara "O'Neil Limited" Edition Image Gallery