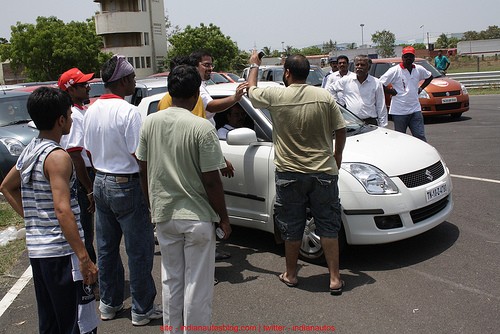 Naveen's Take -
This was the first time in India an event has seen so many people coming together in the name of car. The Maruti Suzuki Swift has an immense fan-following and we can even say it has attained cult status. Maruti Udyog India Ltd. expected to bank on this and give itself a little image boost through this publicity stunt in the form of a 'record breaking' run. The Swift customers responded to the company's call and turned out in huge numbers only to be disappointed by the poor management.
Early in the morning the Swift owners were excited to see the sea of Swifts and happily exchanged views. There were a wide variety of modified Swifts in the premises. There were cars which had complete over-haul to the front & rear bumpers, white nappa leather interiors and ear drum-wrecking audio systems.
With increased restlessness among participants and an excellent mismanagement strategy by the organizers, frankly, hell broke loose when enraged drivers demanded to call off the rally and give them fuel coupons soon, so that they can leave home to escape the scorching heat.
Maruti Suzuki being India's most successful car maker, can't afford to infuriate customers by employing incapable event managers. Such a shoddy display becomes a black mark for Maruti, and participants are going to take a long time to forget and forgive Maruti.
To sum today's event in one sentence: 'Maruti's actions did not meet its intentions.' Here are some of the reactions of the participants, who were frustrated with the event organizers.
Praveen:
I came here at 6:00 AM and was the first to register. I was excited about being a part of this historical run. But I didn't not expect such poor management, they could have at least maintained the calm of the participants by telling them if they co-operated, the rally could be completed sooner. I hope, with the two laps done, we could qualify for the Guinness, else i would be hugely disappointed. There is also no announcement yet regarding the 500 rupee fuel coupon they (organizers) said they would give us.
Senthil:
I love my Swift, so I drove from Coimbatore to participate in this event. But now i am upset about the incapability of the the organizers. They could have informed us that this event would need patience, we wouldn't have brought the kids and grand-parents with us. Now everyone is suffering because of the heat. We did not know what to expect, but never expected something like this.
Rajesh:
I came here purely for the love of the Swift. Now I am going back disappointed. I did not even get the fuel coupons they promised me.
Suzuki Swift record of records Image Slideshow
can't see the slideshow above? go to the Maruti Suzuki Record of Records Image Gallery to see the images