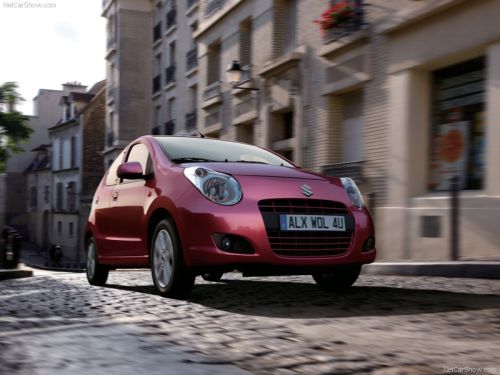 What is it?
The city car that Suzuki hopes will challenge the Hyundai i10, Chevrolet Spark and cars from its own stable. The new A-Star/Alto will be built in Delhi by Suzuki's majority-owned Maruti Suzuki Limited, and will be known as the Maruti A-Star in India, will also be made-over in the same factory and sold in Europe as the Nissan Pixo.
Power comes from the same 67bhp (expect 65bhp for Indian conditions) 1.0-litre three-cylinder petrol engine soon to be offered in the slightly larger Suzuki Splash; it's suspended by McPherson struts up front and a torsion beam at the rear. And although it's only a smidge over 3.6-metres in length, it's a five-door, giving it an advantage in terms of outright practicality and lots of usable space.
The car's standout attributes are good fuel economy and low CO2 emissions- 62.7mpg (30Kmpl) on the combined cycle and 103g/km are both pretty impressive figures, the former helped in no small measure by the car's surprisingly slippery drag co-efficient of 0.30.
What's it like?
For a start, it's a much better-looking thing than the small Suzukis we've known before (read Wagon R and Alto). The oversized headlights, prominent radiator grille and the added 'wedge' to the car's bodyside give it a modern, cheeky look, and an abundance of visual appeal. This car has character. This is a good sequel to the Swift and the SX4.
The new Alto's cabin isn't quite as convincing, but it's not far off the class standard. There's plenty of room, even for six foot-plus occupants, but the driving position could be improved by a steering wheel that adjusted for reach as well as rake.
What's missing from the interior is the same chirpy design character that manifests itself outside. The fascias, seats and trims of our test car felt monotone and boring.
On the move the 1.0-litre triple has a predictable shortage of torque at very low revs, but once you're rolling it's commendably refined. Performance feels lively enough for a 1000cc and will take care of city duties with ease.
At urban speeds and above the Alto displays good rolling refinement, absorbing mid-sized bumps with plenty of quiet composure and good damping. It steers a little oddly; the stability-enhancing dead zone engineered into the system around the straight ahead position feels a little too wide. But there's no arguing with the car's turning circle of just 9.0 metres.
Our main criticism of the car's dynamic performance is aimed at its slightly choppy ride. The car lacks the basic chassis compliance to override smaller disturbances in the road as easily as it does the larger ones. Maruti Suzuki says that the Alto's has been set up for European roads and tastes; we strongly suspect it'll prove slightly too firm to work well on out-of-town British backroads. Expect it to have slightly softer setting for Indian conditions.
Should I buy one?
If you're looking for a city car it's certainly worthy of serious consideration indeed as the Alto has enough stuff that could trump the Hyundai i10 as the segment's value choice.
The Alto doesn't quite feel as upmarket or sophisticated as some cars of its size, but there can be no doubting that Suzuki has produced a robust, good-looking, practical, and cheap-to-run car. We already know that cheap and cheerful goes a long way in the city car segment, and on that basis the Alto looks set to be a winner.
Article tailored  by IAB specially to suit Indian readers
UPDATE- Maruti Suzuki has released the A-Star. Click to get the specification and pricing
Source : Autocar UK
2008 Suzuki A-Star Picture Gallery