The Isuzu D-MAX pickup truck, launched to debut the Isuzu brand in India, has earned the reputation of being a genuine workhorse in many parts of Asia which includes Philippines.
To give it a lifestyle twist, Isuzu introduces a new special edition dubbed 'Isuzu D-MAX LS'. Now we must note that its been a few months since the vehicle's announcement. However, the limited edition is still available at Isuzu dealerships in Philippines.
The LS Limited edition is lavished with sporty racing stripes on its front bumper and bonnet. The Metallic Gray racing stripes, outlined in red, are weather-proof and covered in the vehicle's warranty. These stripes are available on the 'Glacial White' and 'Ebony Black' body colors. The D-MAX LS theme is available in 4x2 and 4x4 versions, as well as in manual or automatic transmission variants.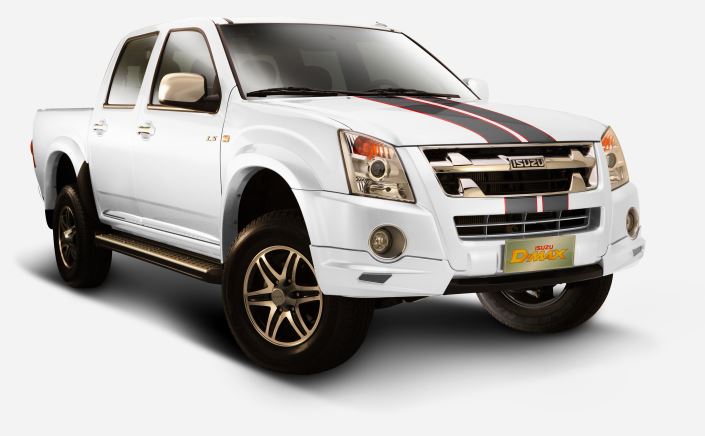 The D-MAX LS Limited Edition is powered by the 4JJ1-TC iTEQ turbocharged CRDI EURO 2 engine that develops 146PS @ 3,800rpm and 294Nm @ 1,400rpm - 3,400rpm. Its engineering package, for the market it targets, is sound with torsion bar springs and stabilizer bar up front, and semi-elliptical leaf springs with telescopic shock absorber in the rear.
Black-finish step boards can be ordered for the 4x2 variant and black-finish step tubes, front chin spoiler and alloy wheels can be requested on the 4x4 variant.
The pickup's interior is appointed with black leather-vinyl combination seats, black vinyl door trim inserts, an illuminated sill plate and a 6.2-inch LCD screen that plays DVD/WMA/MP3 formats, and connects to Bluetooth and iPods. A navigation system can be installed as an optional extra at the dealership.