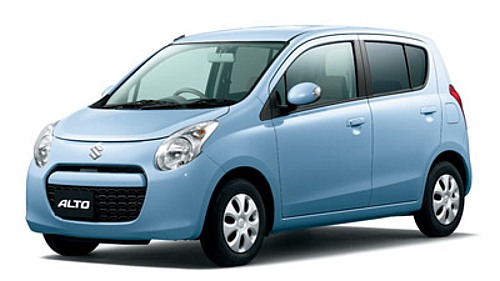 The Japanese version of A-Star has more cabin space and AWD and CVT feature
Most of us believed the tall boy Suzuki Alto (A-Star in India) exhibited at the Tokyo Motor Show few months ago was a concept car. Little did we know this was the production model and Suzuki had lined it up for a year end launch.
The Japanese Suzuki Alto was revealed today. The New Suzuki Alto has a 2400 mm wheelbase (same as JDM WagonR) offered both 2WD and 4WD options.
Price start from 677,250 yen to 1,157,100 yen (3.53 to 6.04 lakh rupees) and models have hit showroom floors. Suzuki expect to sell 7,000 units of the Alto per month in Japan.
No news or indications of Indian entry.
Suzuki Alto JDM version Image Gallery
Press Release
Suzuki Motor Corporation is pleased to announce the launch in Japan of the new Alto, a minivehicle that offers excellent fuel economy and user-friendliness. The new Alto is available from Suzuki dealers throughout Japan from 16 December.

The first-generation Alto made its market debut in May 1979. During the subsequent three decades, the Alto has embodied Suzuki's customer-focused philosophy by evolving to meet contemporary customer needs.

The new Alto is the seventh generation. It reflects a concept of developing a minivehicle that would make efficient use of fuel and other natural resources, offer great user-friendliness, and appeal to people of all generations. While inheriting the drivability, convenience, and economy that have always been Alto hallmarks, it reflects a closer-than-ever focus on fuel savings, ride comfort, and ease of use. As a result, it's an exceptionally user-friendly minivehicle for day-to-day mobility.

Suzuki targets domestic monthly sales of more than 7,000 units.
Major features
(1) Outstanding fuel economy and environmental compatibility

For superior environmental performance and economy, the new Alto reflects reductions in fuel consumption and exhaust emissions. Notably, a light body and a continuously variable transmission (CVT) with an auxiliary transmission help to realize fuel economy of 24.5km/L*.
*with two-wheel drive and a CVT; measured in Japan's 10-15-mode cycle and verified by the Ministry of Land, Infrastructure, Transport and Tourism
(2) A friendly-looking design that inspires emotional attachment

The exterior styling communicates a friendly character through features that include a flowing, stylish roofline and a front face that's characterized by gentle roundness. To create a globally consistent Alto brand image, the exterior styling is similar to that of the Alto offered in countries other than Japan. The interior design includes a beige-and-brown colour scheme that gives a sense of gentleness and softness; an instrument panel on which a clearly defined straight line between the leftmost and rightmost points emphasizes the cabin's roominess; and big, high-legibility meters. With an outstanding blend of style and functionality, it appeals to people of all generations.
(3) Superior performance and plenty of convenience

A 2,400mm wheelbase helps to realize a relaxingly roomy cabin, steady handling, and a comfortable ride. Plus, a driver's seat that affords good visibility and front and rear door openings that allow people to step in and out with ease reflect a packaging approach focused on day-to-day user-friendliness.