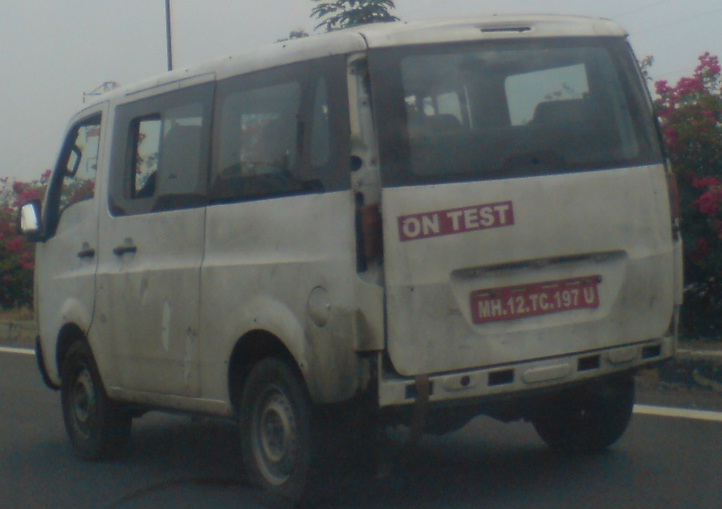 Tata seems to be doing some last minute testing (at speeds of easily over 100kph) on the Venture which should be launched within a month or two. We say that because Tata hasn't bothered to retain any camouflage on the vehicle. Spied here is the vehicle which looks pretty identical to the one shown at the Auto Expo.
The Tata Venture is a much bigger vehicle compared to the Ace Magic. It is wider and longer than the Magic. It has thicker wheels and more headroom. It is powered by a 1.4-liter Normally Aspirated indirect diesel engine that's found on the basic Tata Indica.
The Tata Venture is going to be positioned higher than the Maruti Eeco MPV meaning its price could start at 4 lakh rupees. The vehicle's flexible cabin allows Tata to sell it with either 6 or 8 seats. The middle row can collapse with a touch of the button, so no more muscle flexing to accommodate rear seat passengers. It is said that Ratan Tata helped design the windows and seat.
The Venture measures 3.9m in length, 1.5m in width and is 1.8m high. The dimensions of the vehicle are perfect both transporting people inside the city and out on the highway. The interiors are not plain or like a commercial vehicle. Two-tone beige interiors with roof-mounted blowers keep the cabin cool yet practical.
You get features that you don't find on the Ace Magic like for example power steering, power windows, reverse parking aid, keyless entry with engine immobilizer, and rear wipers. Safety is given more importance with the addition of collapsible steering system and side impact beams.
With the naturally aspirated 1.4-liter diesel engine, the question we're asking is will the Tata Venture be able to pass emission tests to be eligible for release in tier 1 cities?
Spy shot credit - Rush Lane