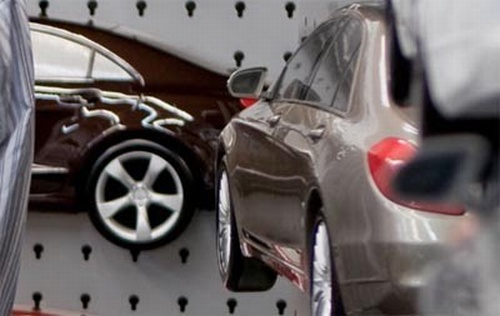 This image could have been captured at a design studio where the next gen Mercedes S-Class is taking shape. We have brought you spyshots as well as a video of a camouflaged S-Class testing in the cold weather. Unveiled back in 2005, the current Mercedes Benz S-Class is getting long in the tooth. The new S-Class will borrow certain styling cues from the F700 and F800 concepts. Codenamed W222, it will be a step ahead of the new E-Class and unlike the other two Germans, Mercedes won't come out with a longer and wider version of a smaller business saloon.
The new S-Class will be a technological marvel using the new Mercedes MRA (Mercedes Rear-wheel drive Architecture) component set. The brand new four-link front suspension will insulate road noise and vibration from the cabin. A revolutionary technology called MBC (Magic Body Control) will feature on the new S-Class that will use a camera to spot road adulation ahead and prepare the car to encounter it with minimal passenger discomfort.
The interiors will be a standout point on the new car with marine-style seating and use of high quality material on the dashboard. The S-Class has to make the interiors of the Audi A8 and BMW 7 Series' feel like outdated military cargo pants. All three powertrains - petroleum, hybrid and fully electric - are being considered for the next generation S-Class, international media reported just days ago.
Source - CarMagazine.co.uk via Burlappcars.com