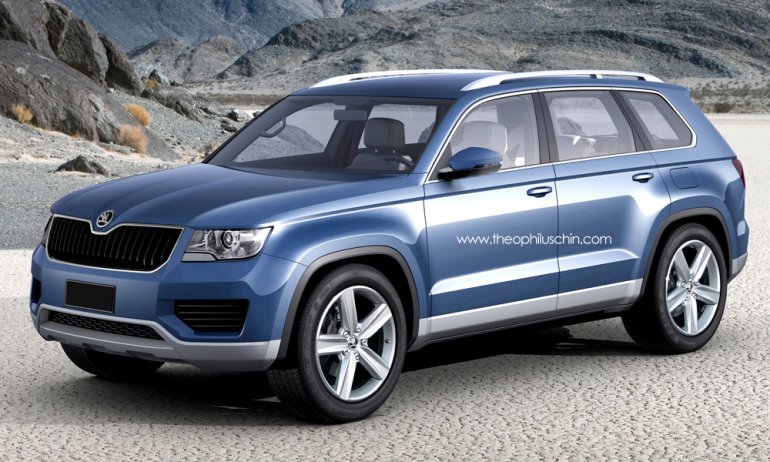 The VW CrossBlue was an interesting concept that was showcased at the Detroit Auto Show last month and here is a speculative rendering of the Skoda version of it.
The popular rendering artist Theophilus Chin has simply replaced the front fascia with Skoda's VisionD styling. The result is a handsome looking SUV.
The VW CrossBlue concept has a hybrid powertrain comprising of a 190 bhp TDI diesel engine and two electric motors. The motor located at the front axle puts out 54 bhp while the one at the rear is good for 114 bhp.
VW has debuted an innovative four wheel drive system in the SUV which is dubbed as the 'propshaft by wire'. In four wheel drive mode, the front wheels will be driven by the diesel engine, the rear wheels will be turned by the 114 bhp motor, while the 54 bhp front mounted motor will act purely as a generator.
The car can travel as long as 22 km on pure electricity and returns 14.81 kmpl in hybrid mode. The SUV concept is spacious and can accommodate 6 people in three rows of seats.
As the CrossBlue is based on the VW MQB platform which also underpins the 2013 Octavia, Skoda could realistically explore the possibility of this seven seat SUV for the segment above Yeti. However there are a few bottlenecks before this becomes reality as Volkswagen is yet to be convinced about the RHD CrossBlue's prospects, and the path from the concept to production could take a while.
Skoda should consider the CrossBlue Concept based SUV to compete with the Toyota Fortuner and the newly launched Ssangyong Rexton.
[Source: TheophilusChin.com]