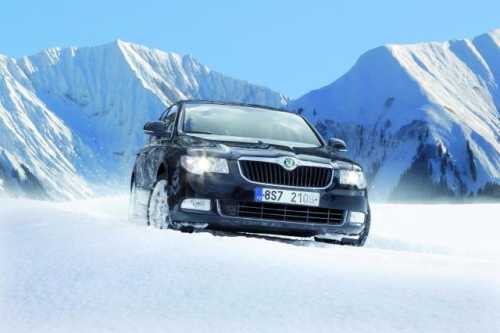 The Skoda Superb, which launched recently in India, is doing extremely well in European countries. It has won the Car of the year award in no less than eight countries.
Skoda using the COTY awards as an advertising opportunity is nothing new. Friends in Hyundai used the same technique to spread popularity of the i10 hatchback in India. They used the brilliant line "Most awarded car of the year 2008" even on their staff buses.
The Skoda Superb has been a recipient of several other awards, its parking assist bagging the Sky motoring award, and the towcar awards in the U.K to cite few.
Skoda Superb Video
The Skoda Superb was launched in India earlier this month with an aggressive price tag of 18.88 lakhs. 20,000 Superbs have been sold globally since its introduction at the Geneva Motor Show last year.
The Skoda Superb comes with the new face, which it shares with recent models like the Fabia and the Yeti. It also boasts of the twindoor which enables the boot lid to operate like a hatchback or a sedan.
Skoda Superb Image Slideshow
wait for the images to load, or head to the Skoda Superb Gallery.
Press Release
Presented at the 78th Geneva Motor Show, the Škoda Superb has received nearly thirty prestigious awards all over Europe since its official world premiere one year ago. Furthermore, Škoda has sold over 20,000 second-generation Superbs since then.

The Škoda Superb received the Car of the Year 2009 award in the Czech Republic, winning both the Medium Class and the cup for the absolute winner. On top of that, the Superb has received Car of the Year awards in a further seven European countries: Slovakia, Estonia, Lithuania, Latvia, Bulgaria, Bosnia & Herzegovina and the Ukraine. The new Superb also succeeded at COTY, Europe's most prestigious poll, where it got as far as the final and finished fifth in the end. The latest award the Superb has received so far is the "Winter Car of the Year 2009? awarded by the expert jury of the Finnish magazine Tekniikan Maailma.

One of the properties appreciated across the various European polls is the economical fuel consumption of this impressive medium-class liftback, which was actually the main reason why the model has received Company Car of the Year awards in the Czech Republic and Germany, besides winning the Imported Vehicles category in the latter. The Škoda Superb GreenLine won the category of environmentally-friendly cars at the Fleet Car of the Year awards in Austria.

Other awards:

Czech Republic:
• Auto Motor a Sport – Best Cars – winner of the upper medium class
• Motoring Journalists Club – Technological Innovation of the Year awarded for the Twindoor system
• Motoring Journalists Club – finished 4th in MJC's Car of the Year poll

Germany:
• Bild am Sonntag – Golden Steering Wheel 2008 (medium class)
• Auto Motor und Sport – Best Cars – winner of the category "Upper Medium Class Imports"
• Auto Zeitung – Auto Throphy 2008 (category "Upper Medium Class Imports")

Austria: ARBÖ – Großen Österreichischen Automobil-Preis – Medium Category
Russia: Golden Horn 2008
Croatia: The Best Company Car
Poland: The Most Beautiful Car Exhibited
Autobest Jury Award: Technobest 2009 awarded for the Twindoor