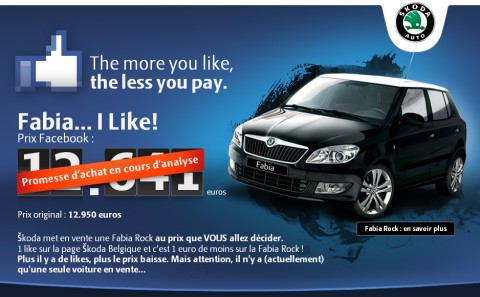 Social networking is the new buzz in Marketing 101 lectures. Tell someone that you are not on facebook and you will raise all eye brows immediately. Car makers have gone absolutely berserk over this new medium and are launching their products online. Mazda gave us a facebook app for Mazda2 whereas Ford unveiled the Explorer 2011. Companies like Ford, Mahindra and Chevrolet have used this medium well in India.
Skoda Belgium decided to take online marketing/promotion to an all new level by offering a free Skoda Fabia as a prize for the maximum number of Facebook 'likes.' If you offer Skoda page 1 like – 1 Euro will be deducted of your cost price for the car. For 2 days fans can share the page with friends asking them to like as well and then they place a bid. The more the number of likes the less you pay for the car.
We think this is a fantastic campaign and wish them all the luck in the world. We hope that this campaign is successful so that we can get such ingenuity in India as well.
Actually, the Skoda Fabia has been a case of neglect in India with the company yet to upgrade to meet BS4 emission norms. Skoda India should first offer a car which everyone can buy and then look into Facebook.
Source - RPM GO