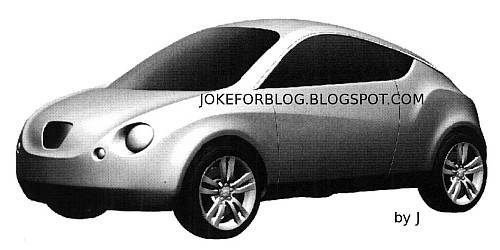 Volkswagen is developing its global small car the UP and India would be one the most important market for the VW UP. Volkswagen would be sharing the UP platform with Skoda and Seat also. Though the Seat version of the city car wouldn't come to India, Skoda version, which could be called the Joyster, would be coming to India in the future.
The picture posted above is a rendering of how the Seat's version of the VW UP could look. The car looks different from the VW UP! concept, which was more like a compact tall boy design. The Seat city car is more sleeker and sportier. The Skoda Joyster also can be expected to come with sporty looks.
The reason for Seat and Skoda's version of the city car being different from the VW UP's tallboy, utilitarian yet attractive design could be the fact that these 3 models would be selling alongside each other in the European market and these three brands are perceived differently. VW which enjoys a better a better reputation would like to be compared to likes of Skoda and Seat which are 'value' brands.
For India though, the Skoda small car could come as a sporty hatchback targeting younger customers at a low price (3-4 lakh rupees) while the Volkswagen UP could be a more practical tallboy aimed at brand conscious buyers. If VW India can create different identities for the UP and the Joyster, then we would approve that VW and Skoda are complementing each other in India.
Click here to see Indian Autos Blog's exclusive Skoda small car rendering.
VW UP / Skoda / Seat city car rendering gallery -
Source: Jokeforblog