At the fourth edition of the Wheels and Waves festival held between June 8-12, 2016 in Biarritz, France, Royal Enfield showcased the Royal Enfield Classic 500 turbocharged Mo' Powa' and Royal Enfield Dirty Duck custom motorcycles, what are billed as the company's first factory-built custom motorcycles.
Royal Enfield Classic 500 turbocharged Mo' Powa'
The Mo' Powa', what Royal Enfield calls a 'a Dragster-meets-Mad Max motorcycle' is based on the Royal Enfield Classic 500. However, it is powered by a turbocharged engine along with an electronic fuel injection system.
Aside from the above modifications, the motorcycle gets a hand-fabricated Harris Performance exhaust, a military style switch for the ignition, K-Tech rear shocks and Continental TKC70 tyre at the rear.
Royal Enfield Dirty Duck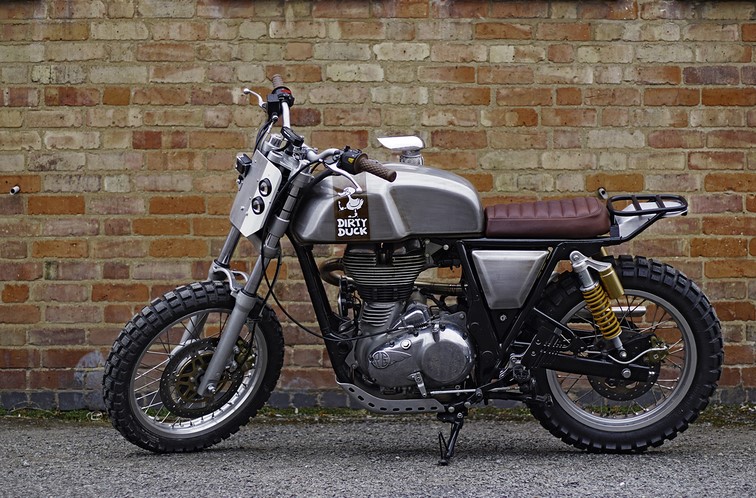 The Royal Enfield Dirty Duck is based on the Continental GT, and shows the potential of an on/off-road motorcycle. Keeping inline with its design theme, it gets a naturally-rusted fuel tank, a Harris Performance-made snorkel, Continental TKC80 block tyres and dual projector headlights.
Other additions include a leather rack, custom, handmade saddle wrapped in oiled leather, an aluminum sump guard, a new instrument cluster and GoPro camera mount, and K-Tech mono-shock suspension at the rear. The Dirty Duck is powered by the 535 cc single-cylinder air-cooled engine.