The Dubai Police may get the Ferrari FF, Lamborghini Aventador and the Bentley Continental GT, but in India, a supercar fleet may not be the fastest mode of transportation to the crime scene or to bust a wrong doer.
Mr. Gabriel Zuzarte, founder of Road Rage Custom Builds has taken the initiative to make cop bikes more effective with lots of hi-tech devices. He even managed to get a green signal from the RTO of Mumbai to build a prototype which will then be tested by the police for practicality and reliability. If it passes the tests, more such bikes would patrol the city.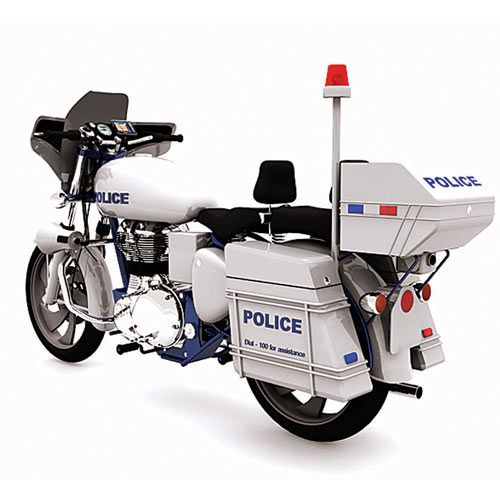 Patrolling motorcycles have been doing the duty much better in the sub continent and soon the Mumbai police force could use technology to make their tasks easier. DNA reports that new customized patrolling motorcycles with technologies found on their foreign counterparts is set to become a reality.
Gabriel's concept is based on the Royal Enfield Bullet 350 Classic. The motorcycle would be bestowed with all-weather cameras at its front and the rear to gather evidence of fleeing suspects. It will also be equipped with a GPS system to reach the crime scene very quickly.
It doesn't end there. The bike will get an all weather laptop and printer to issue tickets to violators and access the rap sheets in a jiffy. The bike will have enough storage boxes to accommodate the additional batteries, first aid kit, forensic tools and so on!
We think such a versatile patrolling motorcycle would make the Police force happy and give them added pride while they go about their daily chores. And also, won't it be cool to patrol the city with such an equipment-rich steed?
[Source: DnaIndia.com]