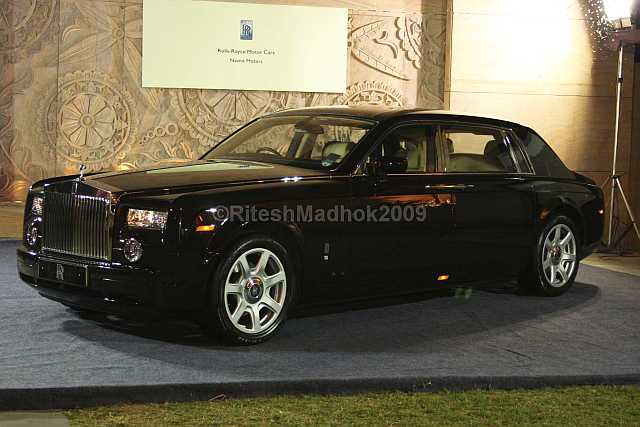 Rolls-Royce Motor Cars previewed its two-door, four-seat Phantom Coupe in Mumbai on Saturday, its fourth new model in the Phantom series line-up.
Rolls-Royce Motors Cars' general manager, South and East Asia Pacific, Matthew Bennett-
The Phantom Coupe is the most driver-oriented model in the current line-up. It completes the Phantom family, adding to Phantom, Phantom Extended Wheelbase and Phantom Drophead Coupe

I cannot say that we are not affected by the global meltdown, but we are buffered because we cater to an exclusive group. Our sales volume for 2008 was up by 20 per cent, despite the economic situation

The US constitutes about 40 per cent of our market
Priced at Rs 4-crore (Rs 40 million) in India, the Coupe can be customised (but not modified) and allows buyers the option of choosing from 44,000 colours.
Customisation of the car takes up to three months to be delivered from the date of order, Matthew said.
The company had retailed 1,212 Phantoms in 2008 globally, as compared to 1,010 cars sold in 2007, clocking a 20 per cent surge in sales volume despite the meltdown.
He said three Coupes were sold in India in 2008 and the company was already in talks with a party here to book one this year.
Rolls-Royce Motor Cars has two dealers in the country --Delhi-based Select Cars and Mumbai-based Navnit Motors.
"We have recently invested Rs 284.74-crore (Rs 2.85 billion) into our manufacturing and head-office facility at Goodwood, UK. This is in preparation for producing a new model that will sit alongside the current Phantom range," a company spokesperson said.
The company is to begin production of a new Rolls-Royce model, codenamed RR4, in the UK in 2010, a company statement said.
Its top five world-wide dealers are located in Abu Dhabi, Beijing, Beverly Hills, Dubai and London.
Rolls Royce Phantom Coupe Launch function Image Gallery by Ritesh Madhok
Ritesh Madhok, who attended the launch function, has got back to us with some awe-inspiring photographs. He is not making his first appearance on IAB, with his Mercedes Benz Golf Award coverage he won our hearts with his work. We thank Ritesh for the photos, and I'm sure all you readers will too.
Cant see the images above? Go directly to the Rolls Royce Phantom Coupe Image gallery