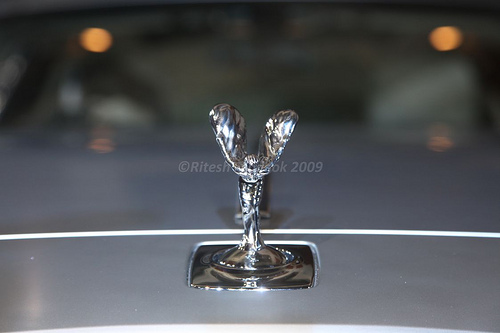 The cheaper Rolls Royce isn't cheap. The Ghost is now available in India
Press Release -
Rolls-Royce Ghost Debuts in India
Mumbai, India, Friday, December 4th, 2009 --
Rolls-Royce Motor Cars Headquarters: Goodwood, West Sussex, United Kingdom previewed its new four-door super-luxury saloon, Ghost, for the first time in India today.
Ghost is smaller and more dynamic than previous models and is instantly recognisable as a Rolls-Royce, achieving a new modernism but remaining true to its luxurious heritage. The car is the first in a new Rolls-Royce model series, separate from the Phantom family which comprises Phantom, Phantom Extended Wheelbase (four door saloons), Phantom Drophead Coupé (convertible) and Phantom Coupé (fixed roof).
At the preview, Rolls-Royce Motor Cars Asia Pacific Regional Director Colin Kelly said: "Ghost is a more informal design that broadens the appeal of Rolls-Royce Motor Cars, combining refinement, new technology and contemporary style. It bears all the hallmarks of other Rolls-Royce cars, using the finest wood and leather materials and employing manufacturing standards which are no different to Phantom. Ghost will be built-to-order."
Brenda Pek, General Manager for South & East Asia Pacific added, "We have seen a healthy level of interest around Ghost in India, which started earlier this year during the 200EX world tour. Ghost has appealed to a broader set of Indian buyers, which has further strengthened the high demand that we are experiencing around the region despite the current economic climate."
Peerless Comfort
The interior of Ghost features a number of Rolls-Royce design cues such as traditional violin key switches and eyeball air vents. Deep-pile carpets can be complemented by optional lambswool floor mats for a truly luxurious feel.
Housed within the front doors are integrated Teflon-coated umbrellas, while the rear coach doors, unique to Rolls-Royce open to a generous 83 degrees. The interior space is filled with natural light, enhanced by an optional Panorama Sunroof, which extends from the front into the rear compartment. Four-zone automatic air conditioning, automatic air recirculation, condensation prevention and solar compensation, lounge or individual seating (the latter with optional massage function) offer outstanding comfort for passengers.
Picnic tables, incorporating the finest leather and veneers matched to the rest of Ghost's interior, also house two 9.2in LCD screens in the back of the front seats. The Ghost audio system delivers 600 Watts of sound through a 10-channel amplifier and 16 speakers, including two floor-mounted subwoofers. USB and auxiliary inputs allow for the integration of external audio devices, while a 12.5 GB hard drive enables storage of music files from USB or CD player sources.
Riding on a sophisticated four corner air suspension, Ghost can detect even the smallest of changes. For example, it will sense the movement of a single rear passenger from one side of the seat to the other and compensate accordingly. A lift and kneel function raises or lowers Ghost by 25mm.
A host of optional aids make Ghost the most driver-focused Rolls-Royce Motor Car yet, and include rear, front side and top view cameras, Night Vision camera, Head-up Display, Lane Departure Warning, High Beam Assistance, Adaptive, directional headlights and Active Cruise Control with Stop & Go Active Brake Intervention. Optional Comfort Entry allows easy access to the car, unlocking doors when the key fob is within 1.5 metres.
Exemplary performance
Ghost is the most powerful Rolls-Royce built to date, yet delivers its performance in an entirely Rolls-Royce manner - effortlessly. The epitome of dynamic refinement, the Ghost drivetrain comprises a unique 6.6 litre twin-turbo charged V12 engine and a new 8-speed automatic ZF gearbox.
Peak power output of 563bhp / 420kW / 570PS at 5250rpm is combined with a maximum torque of 780Nm / 575lb ft at only 1500 rpm. The result is that Ghost is able to reach 60mph in 4.7 seconds / 0-100km/h in 4.9 seconds, and an electronically governed top speed of 155mph / 250km/h. The new drive train significantly improves Rolls-Royce Motor Cars class leading position on CO2 (317g/km) and fuel efficiency (Combined consumption: 20.8 mpg / 13.6 l/100km).
Electronic aids keep Ghost composed on virtually any surface and include Anti-Roll Stabilisation, Dynamic Brake Control and Dynamic Stability Control, Dynamic Traction Control and Cornering Brake Control. Ghost's handling and safety systems operate as one, imperceptible to the driver and passengers.
Production
Production of Ghost has begun at Goodwood and the first customer cars are expected to be delivered to India by the second quarter of 2010. In order to cope with anticipated demand, Rolls-Royce Motor Cars will increase its manufacturing workforce by 50 per cent.
Notes to Editors:
1.Rolls-Royce Motor Cars showrooms in India are located at:
North India
Rolls-Royce Motor Cars New Delhi
Shangri La Hotel, 19, Ashoka Road, New Delhi 110 001
Tel : +91 143505888 Fax: +91 11 4168 2555
Chief Executive Officer: Yadur Kapur
South India
Rolls-Royce Motor Cars Mumbai
Navnit Motors Pvt. Ltd.
48, Atria Millennium Mall, Annie Basent Road, Worli, Mumbai 400 018
Tel: +91 22 2481 3326 / 35 Fax: +91 22 2481 3336
Sales and Marketing Director: Sharad Kachalia
2. The 2008 Rolls-Royce Motor Cars product range*:
Phantom- Launched January 2003
Phantom Extended Wheelbase- Launched March 2005
Phantom Drophead Coupé- Launched January 2007
Phantom Coupé- Launched March 2008
Ghost- Launched March 2009
Approximately Rs. 2,50,00,000*
*Manufacturer's suggested on-road price. Rolls-Royce Ghost is built to order
Rolls Royce Ghost Launch Image Gallery
If you aren't able to view the image slideshow above, why not view the images directly at the Rolls Royce Ghost Image Gallery?