The compact crossover fever has affected majority of the automakers and Toyota's premium marque Lexus is not an exception.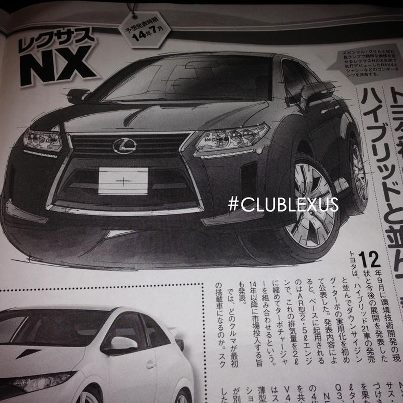 The Japanese luxury car maker is reportedly working on a compact crossover which could be named as NX. The car would slot below the RX in terms of size and price.
Here is a sketch of the NX compact crossover from an unidentified Japanese magazine which was posted by ClubLexus.com. The speculative rendering gives us an idea about how the SUV could look like.
The front fascia of the car is a typical Lexus stuff with the chrome highlighted, multi-sided grill. There could be thin daytime LED strips just below the headlamps.
Lexus has reportedly filed for trademark rights for names NX 200t and NX 300h, giving us an idea about the possible powertrain options. The 200t could signify that the car is powered by the company's new 2.0 litre turbocharged petrol engine while the 300h could signify the 2.5 litre hybrid powertrain that is found on the ES 300h.
The new 2.0 liter turbo petrol is not expected to be manufactured until 2014 and this implies the compact crossover SUV from Lexus is still sometime away from its D-day.
[Source: Clublexus.com]