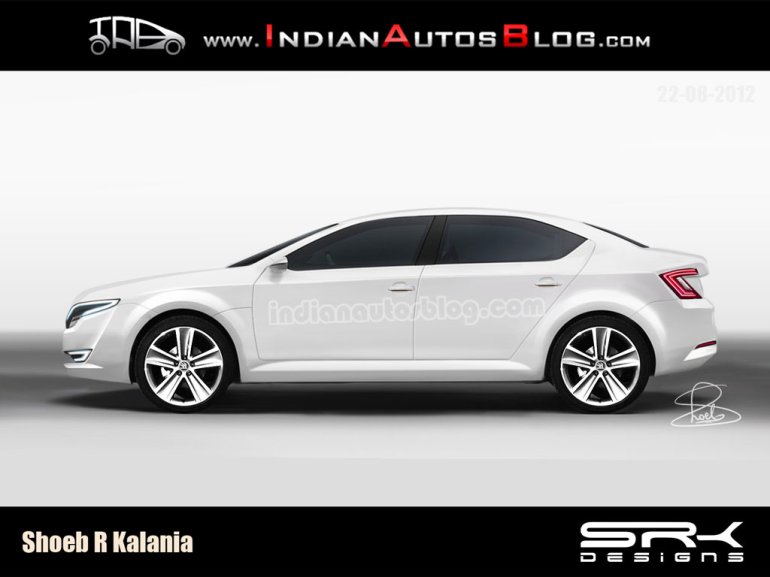 At the media presentation of the Skoda Rapid for European markets, project managers projected a sketch of a VisionD look alike, with a suspicious front-end.
This subsequently led to a rage of speculative posts from many European automotive blogs.
So many of them tend to think that the mystery nose belongs to the next generation Skoda Octavia (Laura for India), that (tentatively) takes its public bow at the Geneva Motor Show in March next year.
Our in-house image manipulator Shoeb couldn't just sit there without doing anything. He pulled out his sketch pad and imagined the new Octavia with the mystery nose. He played by the rules set by concepts such as the VisionD and MissionL that preview future products of Skoda. He also took a leaf out of the design of the European Rapid to create this car.
The new Octavia is seated on the MQB Platform and is dimensionally bigger than the present model. The introduction of the Rapid causes confusion to fleet as well as personal car customers as the Rapid and Octavia are very close to each other from the perspective of size.
Hence Skoda has made the replacement model longer, with its wheelbase stretched by 42mm. Thanks to weight saving measures, it has reportedly lost 80kg and shall continue its duties in both sedan and wagon formats, despite up-sizing.
Under the hood, Skoda have transplanted engines ranging in displacement from 1.2- to 2-liters in naturally aspirated and turbocharged avatars. The engines come from the VW Group pool and can be mated to anything from a 5-speed manual to a dual clutch gearbox.
If the Octavia can look as sporty as this rendering suggests, we are sure the new model will be the best Octavia of all three generations.
Don't you think so?