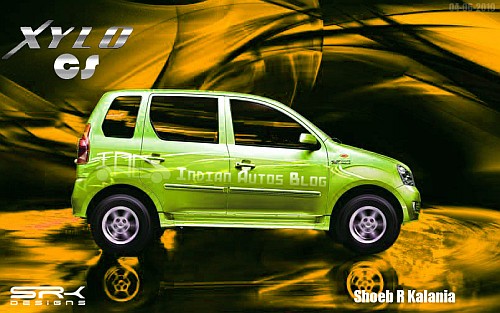 Isn't it a hatchback? Frankly, what would you call a vehicle without a boot, less than 4 meters in length, has a sub 1.5-liter diesel/1.2-liter petrol engine and seats 5 with little luggage space?
Our image manipulator SRK was excited ever since he saw what Autocar describes a "5 seater Mahindra Xylo." He set about working on the Xylo, trying to shorten the overall length by altering the rear window design and D-Pillar.
This is the best he could do!
We have heard from our friends in the media that Mahindra could change certain body panels on the hatchback to maintain some distance from the bigger Xylo. Sources have told IAB that Mahindra might also tinker the shell to better its looks and handling.
The Xylo hatchback is at least 12 months away from Indian roads. It'll offer terrific value for money if it can be priced between 5 and 6 lakh rupees. Mahindra targeted cars like even the Swift Dzire with the Xylo, so we're pretty sure that the Suzuki Swift, Tata Indica Vista, Hyundai i20 is where their bullseye is with this model.
Mahindra Xylo hatchback hi-res Image