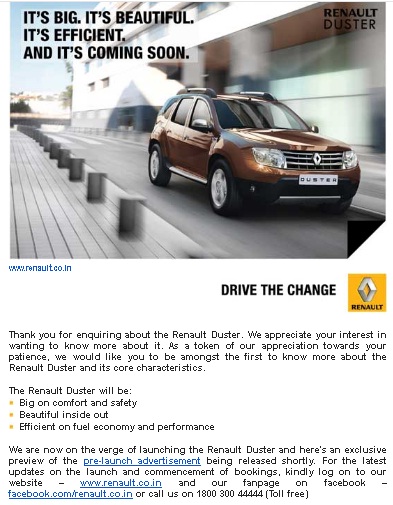 Renault India is sending out emails to customers or enthusiasts who have made inquiries on the Duster carrying links to the pre-launch advertisement campaign, claiming that the company is "on the verge" of launching the car.
There are murmurs in the market that the Duster is coming on the first week of July but we have no official confirmation on this matter.
We've already presented our readers with all the variants and features in a previous post. The Duster is going to be big, if Renault can accommodate all variants under 10 lakh rupees.
We hope they can make the most out of the situation as there is no mini SUV in sight till the first quarter of 2013 when the EcoSport is ready to set sail.
The Duster is being shown at the Goodwood Festival of Speed tomorrow and in the next few hours, the prices of the car for the UK market will be announced through the internet. We will also get to play with the car configurator. The Duster will launch as a Dacia in the UK and will be available at 127 retailers from January 2013. The cars will be manufactured in Chennai and exported to the UK.
The Duster will not be offered with the 4WD option in India but the company is providing two states of tuning for the diesel engine - 85PS and 110PS - paired to 5- and 6-speed manual transmissions respectively.