To give the Chinese knock-offs a run for their money, a Kerala based customiser has transformed a Maruti Vitara Brezza to make it look like a Range Rover Evoque.
And a pretty convincing one at that.
The owner paid an additional INR 6 Lakhs to convert the Brezza into the compact British luxury SUV visually.
The front bumper of the customized Vitara Brezza seems to have been sourced from an actual Range Rover Evoque but modified to fit the narrower dimensions of the Maruti SUV. It gets the Evoque's projector headlamps, two bar grille painted in gloss black but lacks the oval Land Rover badge, the large fog lamps enclosures, and the big bumper trim.
At the side, the Brezza gets larger 5-spoke dual tone rims that don't mirror the look of any wheel options available for the Evoque. Like the front, the rear also gets the Evoque's taillamps, bumper arrangement, and faux chrome trimmed exhaust outlets. To top this off, the exterior has a dual tone white and gloss black combination of colours which is a signature (as well as common) combination for the Evoque. The interior wasn't showcased in detail, but from what we could see from the video, it quickly gives away the fact that the vehicle underneath is indeed a Vitara Brezza. However, it gets a dual tone red and black interior colour combination, which is not an option in the stock model.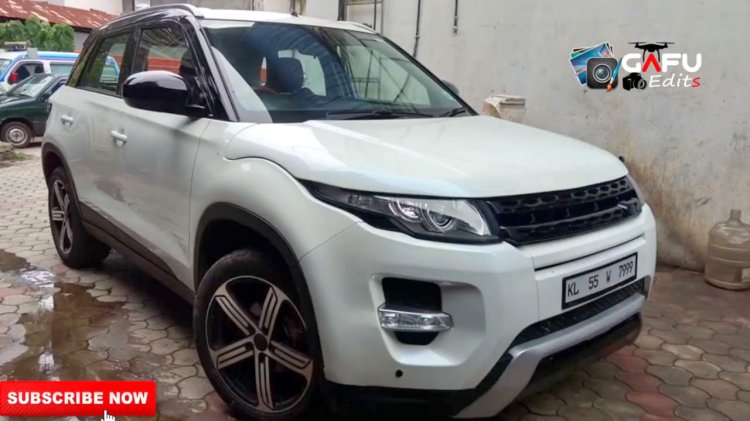 Also Read: India's first 'slammed' Maruti Ciaz is undoubtedly a head-turner
The neatly done custom doesn't get the Evoque's 2.2-liter or 2.0-liter 4 cylinder turbo diesel motors. It continues with the Vitara Brezza's 1.3-liter DDiS diesel motor in stock configuration, which produces 66 kW (90 PS) at 4,000 rpm and 200 Nm of torque at 1,750 rpm. A 5-speed manual transmission is fitted as standard, while recently Maruti introduced a 5-speed AGS automated manual transmission.