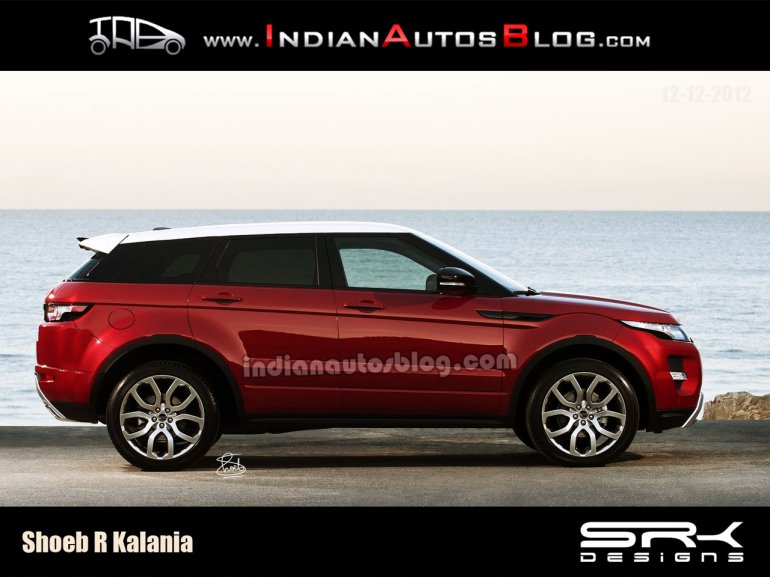 In the coming years Land Rover will have a variety of SUV models to suit everybody's taste.
If the stunning Range Rover Evoque is too small to your liking then worry not! Land Rover is working on a longer Evoque which will have an extended wheelbase and more space at the rear.
The Evoque EWB (Extended WheelBase) has been spied testing near Land Rover's headquarters in Gaydon, Warwickshire. Our in-house digital manipulator Shoeb has come up with the rendering of the Range Rover Evoque EWB before his lunchtime noodles cooked fully.
The designers have taken the 5-door Evoque and stretched its wheelbase and extended the roof and rear overhang to free up more legroom and boot space. The extended wheelbase version looks like it is perfectly suitable for being a 7-seater, however AutoExpress.co.uk reports that 7-seat configuration may not be considered by Land Rover.
The car is based on the elongated version of the Evoque's platform which is in turn is derived from Freelander's underpinnings, which in turn is a derivative of the Ford European C/D Class Platform (Ford EUCD).
Land Rover is not stopping with the EWB Evoque and it has at least two more variants in mind for the future. These have been revealed comprehensively in a product roadmap chart leaked by Daily Mail UK a few weeks back.
The cabriolet version of the Evoque which was showcased at this year's Geneva Motor Show is expected to arrive in 2014. There is also a small crossover, even smaller than the Evoque being considered that could classify as a small car in India if LR can find a sub-1.5-liter diesel engine to go with it!
The Range Rover Evoque EWB will be welcomed with wide open arms in countries like China and India where people simply love to dwell at the rear.
[Source: AutoExpress.co.uk]