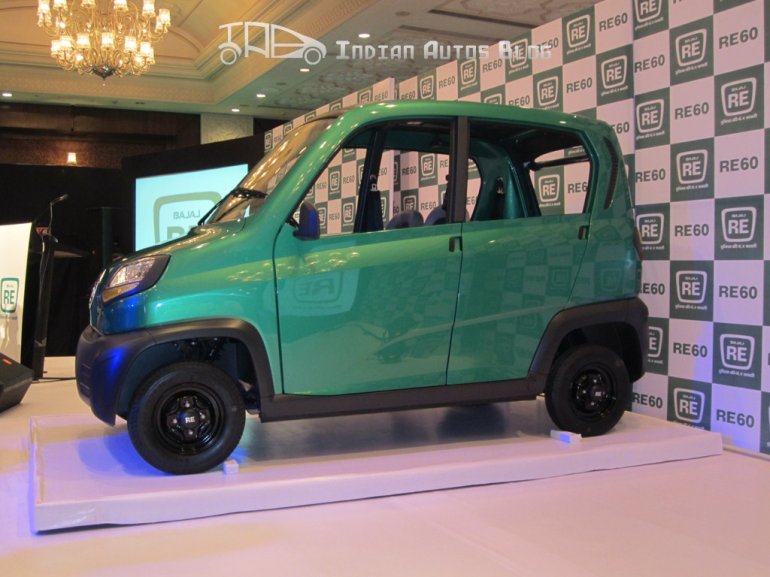 Government of India has appointed a committee to study the feasibility of granting permission to the introduction of quadricycles in India.
Quadricyles are automobiles which have different architecture and construction from a full fledged car. They are basically improved versions of three wheelers and are targeted at city dwellers who want a low cost, compact and efficient means of transport.
The quadricyles, if introduced in India has a potential to replace the three wheeled auto rickshaws. The quadricyle policy has already been implemented in Europe and the Indian manufacturers have mixed reaction towards bringing the quadriclyles to India.
The new segment of automobiles will be positioned between three wheelers and full fledged cars. Automakers who have entry level low cost cars are reportedly opposing the implementation of the quadricyles policy in India fearing that it could cannibalize the sales of their small cars, however manufacturers like Bajaj, whose RE60 could be classified as quadricyle, Mahindra, Eicher and Piaggio are batting in favor of the policy.
According to European quadricycle policy, a quadricyle need not have doors and shouldn't exceed 70 kmph. Ministry of Surface Trasport has asked The National Automotive Testing and R&D Infrastrucure Project (NATRIP) headed by Mr. Nitin Gokarn to submit a report on the feasibility of introducing quadricycles in India.
One group of automakers claim that the quadricyles are not as safe as cars and hence shouldn't be granted permission while the other claims that, since the quadricyles are used mostly within cities they are safe enough and also are far more efficient and cleaner than proper cars.
Mr. Rajiv Bajaj, MD of Bajaj advocates that a quadricycle has half the emission as a small car and is also much more fuel efficient. In fact the 60 in Bajaj RE60 represents the vehicle's CO2 emission per km which is much lesser than an entry level small car.
NATRIP is expected to take about an year to submit the report and until then the fate of the quadricyles in India is uncertain.
[Source: BSmotoring.com]