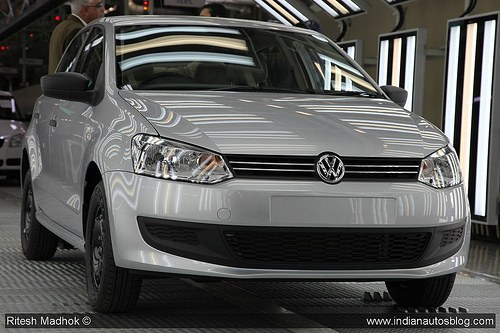 The VW Polo shares underpinnings with Fabia. Will it play havoc in pricing?
VW rolled out the 11,111,111th Polo from its Chakan plant in Pune. The milestone car was launched in the presence of the German President Horst Kohler.  Set up in March 2009, the Chakan plant rolled out its first Polo in December 2009.
The Economic Times reported that VW may export the Polo in CKD / CBU versions to East Asian, Gulf and African markets. It would be interesting to learn the differences in the domestic and the export versions should this strategy be adopted.
Also on offer would be accessory kits/sport packages at the dealer level. VW Chief General Manager (Marketing and PR) Lutz Kothe (at the 10th Auto Expo. in Delhi) -
We will be offering cosmetics like safety features, entertainment systems and sports packages in our Polo cars. These features will be available at the dealers end during bookings,
We are eagerly awaiting to understand the definitive pricing for the Polo. There has not been an official statement from VW yet, but going by street talk, we can consider a pricing similar to the Skoda Fabia (if not, a bit more aggressive and a step up over the Swift).
Let's get to the basics. The Polo and Fabia share the same platform and production systems. Considering the mark ups on the Brand, the VW Polo would demand a higher price over the Fabia. If the Polo comes cheaper to the Fabia, then are the Indian buyers paying a premium for the Fabia? or is it a case of VW loosing money over the Polo? If it is a case of the latter, then VW should surely be expecting large orders for the Polo in India. Worth the watch when bookings open.