Polaris unveiled two new vehicles for use in defense duties at the DefExpo India 2014 - An unmanned 6X6 vehicle and an off-road ambulance.
Polaris Ranger 6X6 unmanned
The unmanned vehicle is a modified version of the Polaris Ranger 6X6. Gurgaon-based Hi-Tech Robotic Systemz has modified the vehicle, making the vehicle usable for both defense and civilian purposes.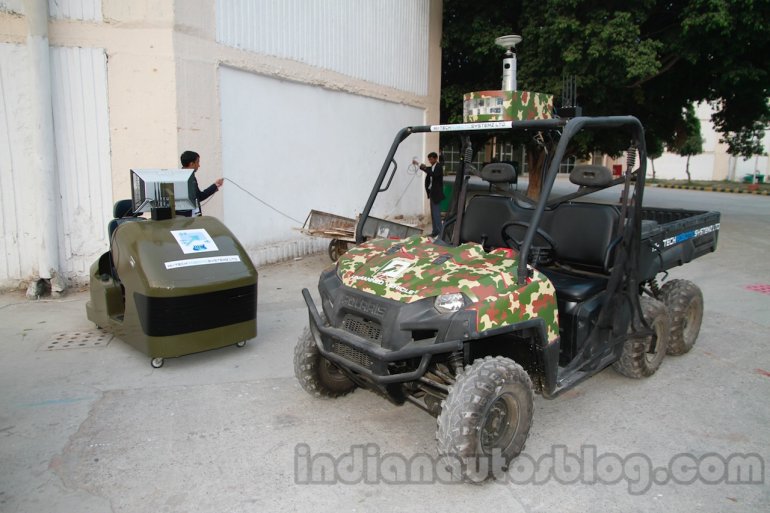 The Ranger 6X6 has been fitted with various kits like a drive by wire system and sensor suite. The sensor suite includes 6 cameras, 3D laser for range detection and inertial navigation system. It also gets a host of accelerometers and gyroscopes to make all this possible.
Hi-Tech Robotic Systemz has also fitted the vehicle with a radio that has a 5 km range, but an official from the company said that more powerful radios can be fitted. Almost all of the components that have been used to give the vehicle the drive-by-wire capability can be purchased off the shelf. In the version showcased, all systems, including the drive-by-wire kit, sensor suite and software are proprietary of Hi-Tech Robotic Systemz.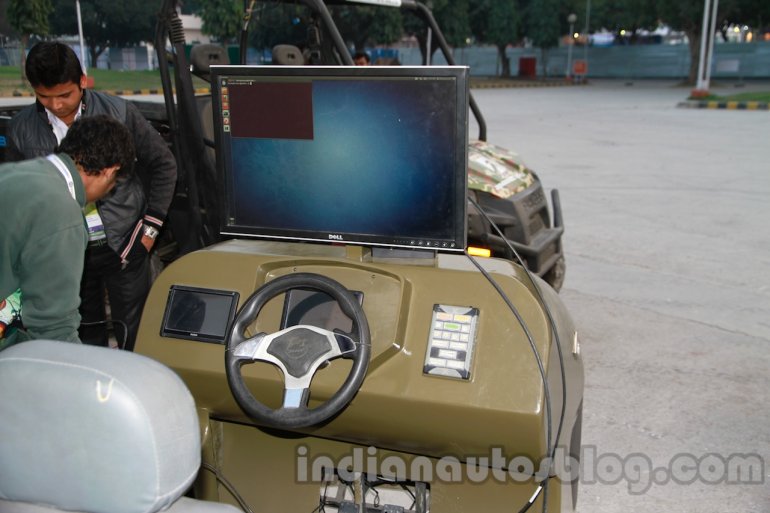 The Ranger 6X6 gets a 760 cc engine that produces 40 hp and has a maximum speed of 70 kph. The six-wheel drive vehicle gets four-wheel hydraulic disc brakes and on demand true 6-wheel/rear four-wheel and mid differential lock drive options.
Polaris Ranger 6X6 Unmanned - Image Gallery
Polaris Ambulance
Polaris also showed an ambulance built on the Ranger 6X6 platform.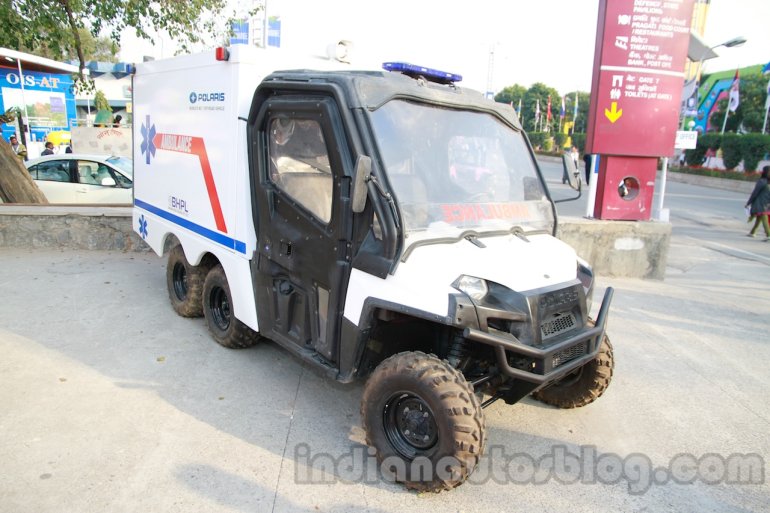 The ambulance has off-roading capability and has been built in collaboration with Bafna Healthcare Pvt Ltd. It gets all-six-wheel drive capability.
Polaris Ambulance - Image Gallery