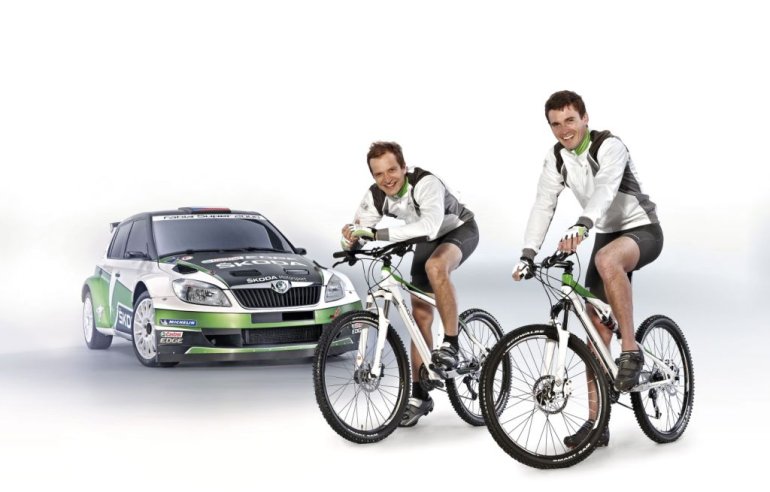 Products like the Fabia 1.2 MPI, Laura vRS and the 1.8-liter Superb petrol are not going to move out of the stockyards very soon given the rate at which petrol is retailing in India. But Skoda has proved that a diesel option is not a must to reach or please customers.
Check out the new 2012 range of bicycles from Skoda inspired by the motorsport theme of the company!
Seven new models of pedal powered rides have been introduced for different age groups.
Customers looking for an everyday pedal will be tempted to try out the 'Skoda Road' bike which weighs just 8.4 kg! Adventure junkies will opt with their eyes closed for the 'Skoda MTB' or the more advanced 'Skoda MTB Full' that has a full front and rear suspension. Then there is this versatile 'Skoda Cross' that combines strengths of both models in the area between the two wheels. The entire range comes in two sizes.
Young Skoda fans can also boast of riding this fast-growing brand, with options such as the 'Skoda MTB Junior' or 'Skoda Kid' or the smallest of them all 'Skoda Mini'.
Exclusive Skoda Bike wear has also been introduced with the cycles.
We think Skoda should start a green initiative in India as well and offer these products in their showrooms. The number of bicycle users has increased by a huge number these last few years and for those who are still unsatisfied with the Fabia's 20-odd kmpl gas mileage, these keep the hope alive of owning a Skoda!
[Source: TheAutoChannel]